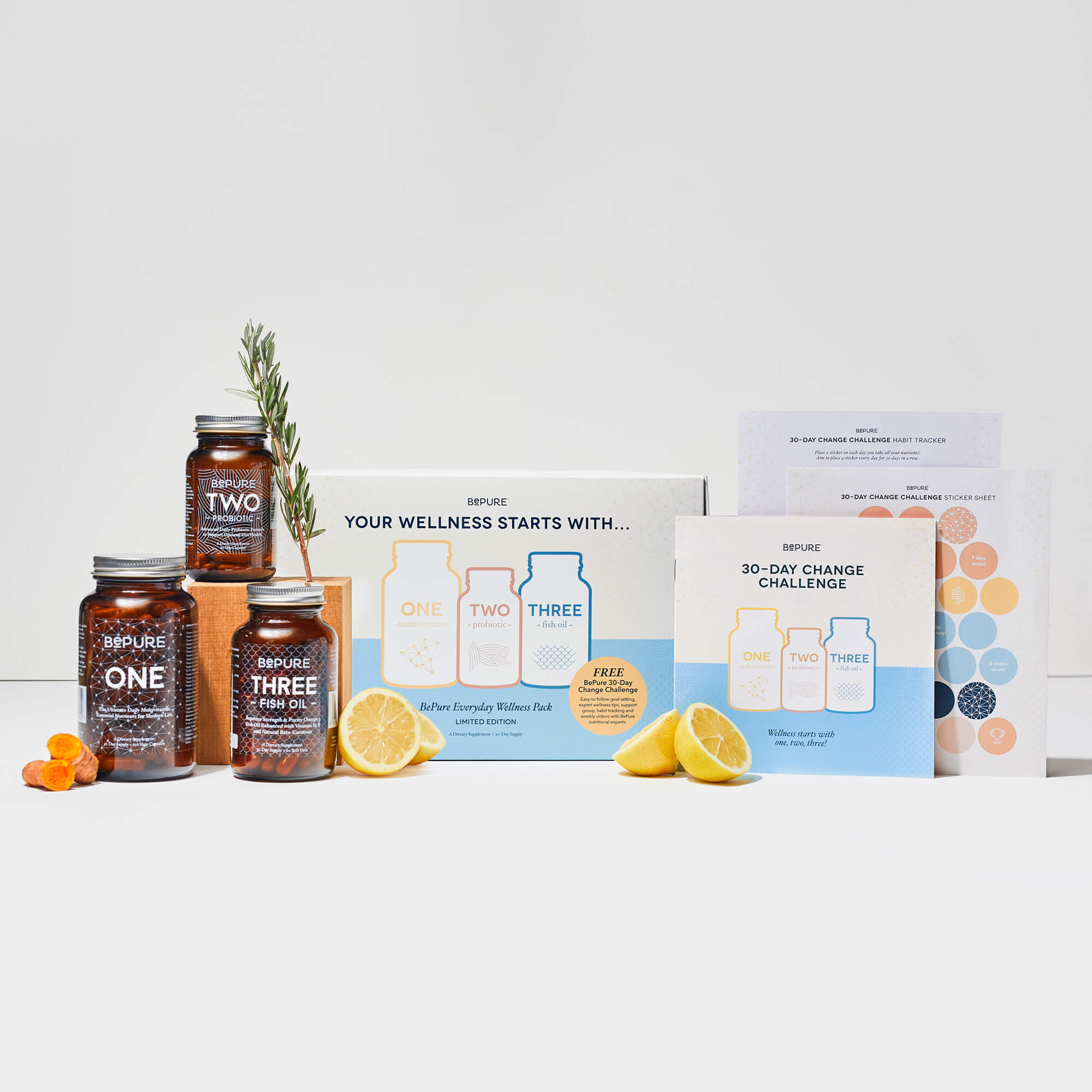 BePure
BePure Everyday Wellness Pack 30 day supply
Energy and vitality
Gut health
Inflammation
Mental clarity and brain fog
Bone and joint health
Hormone health
Hair, skin and nail health
Immunity
Mood
Sleep
Recommended for both men and women
Additional Information
Product Benefits
Ingredients
Dosage
Precautions
BePure One, Two and Three provide the foundational nutrients, probiotics and essential fatty acids for optimal health and wellness, every day.
The baseline nutritional and probiotic support recommended for everyone, every day to support great health and vitality. The ultimate pack to simplify your wellness.
Packed with the high-strength, high-quality nutrients of BePure One, the ultimate multivitamin, and BePure Three, high strength DHA/EPA fish oil, the BePure Everyday Wellness Pack is the baseline nutritional support that Ben Warren and BePure recommends for everyone, on top of a healthy whole foods diet, every day, to support great health.
WHAT'S IN THE PACK
BePure One: The ultimate, high-strength, high-quality multivitamin. Containing over 50 essential nutrients in bioavailable form, with a raw organic greens base blend to support your body to function at its best every day. Key active ingredients include;
Vitamin A as Beta-Carotene
Vitamin C as Ascorbic Acid
Vit. D-3 (Naturally Sourced Cholecalciferol)
Vit. E (Natural tocopherol)
Vit. K2 MK-7 (Naturally Fermented Natto)
Boron as Boron Glycinate
Calcium as Calcium Citrate
Vit. B-9 (Folate) as 5-methyltetrahydrofolate
Vit. B-12 (methylcobalamin)
Iodine as Potassium Iodide
Magnesium as Magnesium Glycinate Chelate
Selenium as Selenomethionine
See here for full ingredients list.
BePure Two: BePure Two is an advanced daily probiotic containing 19 strains of beneficial bacteria and a minimum of 30 billion viable bacteria per serving. Key strains include;
Lactobacillus
Bifidobacterium
Bacillus
Streptococcus
Saccharomyces boulardii
See here for full ingredients list.
BePure Three: High DHA/EPA, sustainably sourced omega 3 fish oil, molecularly distilled and tested for freshness and purity. Key active ingredients include;
Vitamin A Natural Beta-Carotene
Vitamin D3
Vitamin E
DHA (Docosahexaenoic Acid)
EPA (Eicosapentaenoic Acid)
5 x BePure One capsules, 2 x BePure Two, 2 x BePure Three capsules
If it is your first time taking BePure products we recommend starting slowly with a half dosage and working your way up to the full dosage over a week to avoid a detox reaction, such as headaches or tiredness. This should only last 3 - 5 days. A detox reaction can be linked to the up-regulation of your liver from the extra nutrients. This is a good sign that your body is processing excess toxins out of your body.
To ensure maximum absorption, we recommend that you take BePure One and Three with food and away from drinks such as coffee, tea or alcohol. BePure Two should be taken on an empty stomach and away from food to allow for optimal absorption.
If you are taking any form of blood thinning medication such as warfarin, or if you anticipate surgery, please consult with your GP and BePure before taking BePure One or BePure Three.
All BePure nutritional support products are supplementary to and not a replacement for a quality, whole foods diet.
Always read the label and use as directed.