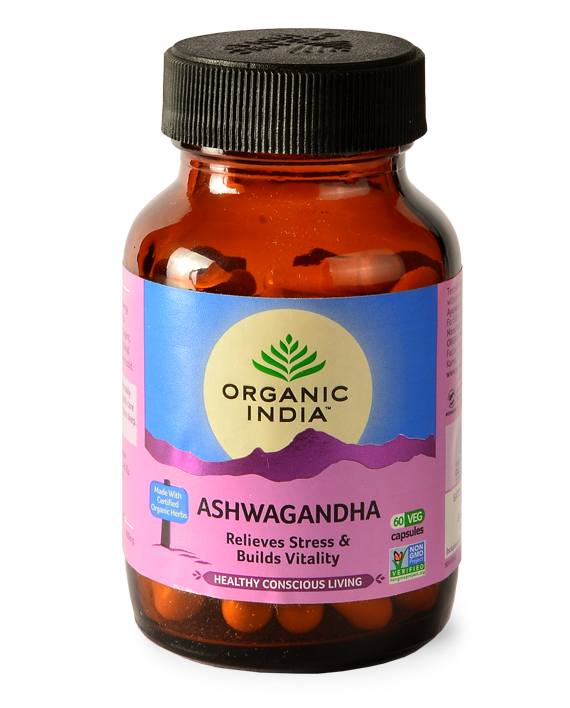 Organic India
Organic India Ashwagandha 90 Capsules
Ashwagandha (Withania somnifera) is a natural treatment for low energy states & general exhaustion and a tendency towards infections, cold & flu. A powerful anti-stress agent Ashwagandha can assist in relieving mental, physical & emotional stress.*
Additional Information
Product Benefits
Ingredients
Dosage
Precautions
90 Capsules per bottle
Made with certified organic herbs
Vegan – Vegetarian – Gluten Free
NON-GMO Project Verified
Kosher and Halal Certified
Made with sustainability grown herbs in veggie capsules
*These statements have not been evaluated by the MPI. This product is not intended to diagnose, treat, cure or prevent any disease
Ashwagandha is highly valued in the Vedic tradition as a Rasayana, or tonic, that promotes longevity and vitality. Ashwagandha is an Ayurvedic name that translates to "the rooted power of a horse," a reference to this herb's revitalizing and strengthening properties.
It's also known as "Indian Ginseng," as its actions parallel those of the Ginseng used in Chinese medicine. Ashwagandha churna, or powder, is traditionally combined with boiled milk and honey to provide a nourishing tonic. ORGANIC INDIA's Ashwagandha is an excellent alternative to the now over-harvested ginseng, as it grows quickly and is cultivated using regenerative farming practices that heal our Earth.
1-2 capsules with food & water twice a day for at least 3 months or as directed by your healthcare provider. Can be taken at night-time to help induce sleep. Safe for long-term use.
As with any dietary supplement, consult your healthcare practitioner before using our products, especially if you are pregnant, nursing, anticipate surgery, take medication on a regular basis or are otherwise under medical supervision. Stop immediately if you experience any adverse reaction.