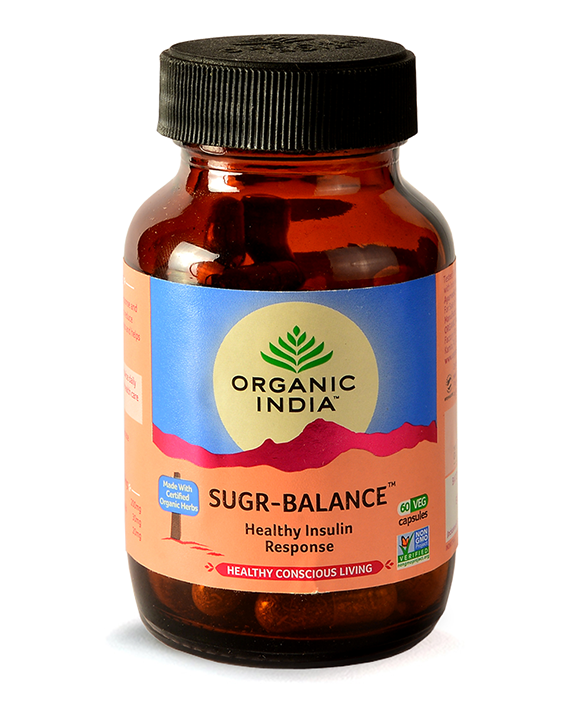 Organic India
Organic India Sugar Balance 90 Capsules
Sugar Balance supports healthy insulin response and glycemic control. Sugar Balance also helps reduce mood swings due to cravings for sugary foods and helps to normalize energy levels.
Additional Information
Product Benefits
Ingredients
Dosage
Precautions
90 Capsules per bottle
Made with certified organic herbs
Vegan – Vegetarian – Gluten Free
NON-GMO Project Verified
Kosher and Halal Certified
Made with sustainability grown herbs in veggie capsules
Benefits of ORGANIC INDIA Sugar-Balance:
Supports healthy insulin response*
Supports glycemic control*
Helps reduce mood swings due to cravings for sugary foods*
Helps to normalize energy levels*
*These statements have not been evaluated by the MPI. This product is not intended to diagnose, treat, cure or prevent any disease
Each 250mg vegetarian capsule contains:
Organic Bimbi leaf (Coccinia grandis)
Organic Bougainbelia Leaf (Bougainvillea spectabills)
Organic Sadabahar Leaf (Vinca rosea)
1-2 capsules with food & water twice a day for at least 3 months or as directed by your healthcare provider. Safe for long-term use.
As with any dietary supplement, consult your healthcare practitioner before using our products, especially if you are pregnant, nursing, anticipate surgery, take medication on a regular basis or are otherwise under medical supervision. Stop immediately if you experience any adverse reaction.