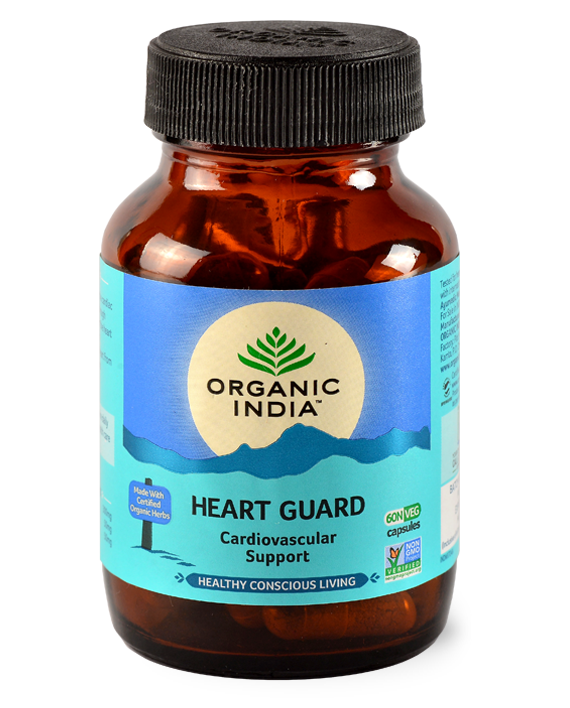 Organic India
Organic India Heart Guard 90 Capsules
Heart Guard supports and helps to improve the cardiac function providing cellular rejuvenation through herbs that nourish the blood, help strengthen the heart muscle and improve circulation. Abundant in antioxidants, Heart Guard helps protect the heart from free radical damage related to everyday stress.*
Additional Information
Product Benefits
Ingredients
Dosage
Precautions
90 Capsules per bottle
Made with certified organic herbs
Vegan – Vegetarian – Gluten Free
NON-GMO Project Verified
Kosher and Halal Certified
Benefits of ORGANIC INDIA Heart Guard:
Improves the cardiac function*
Provides cellular rejuvenation*
Abundant in antioxidant*
Protects the heart from free radical damage*
*These statements have not been evaluated by the MPI. This product is not intended to diagnose, treat, cure or prevent any disease
Each 400mg vegetarian capsules contain
Arjuna Bark (Terminalia arjuna) ……………………………300mg
Reetha Fruit (Sapindus trifolitus)…………………………..50mg
Sahijan Leaf (Moringa oleifera)……………………………….50mg
Certified Organic Herbs by CU Cert.
1-2 capsules with food and water twice a day for at least 3 months or as directed by your healthcare provider. Safe for long-term use.
Do not use if pregnant or nursing without consulting a physician.