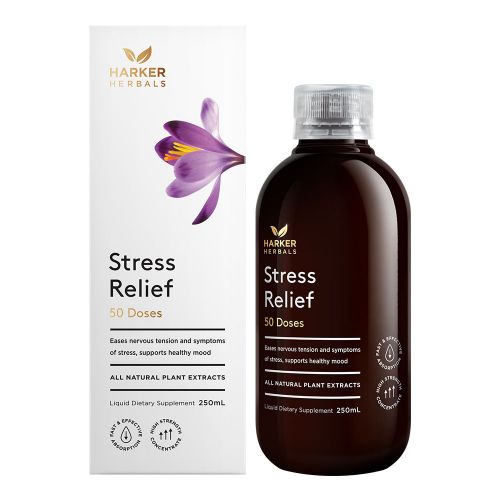 Harker Herbals
Harker Herbals Stress Relief 250ml WITH FREE SLEEP WELL 100ml
Eases nervous tension and symptoms of stress, supports healthy mood
Product Benefits
Ingredients
Dosage
Precautions
Supports a balanced mood and eases nervous tension
Eases symptoms of stress such as fatigue, irritability, reduced immunity
Supports healthy energy and restful sleep
Includes Saffron, which clinical research shows supports healthy mood.
Natural orange flavour
Free from gluten, dairy, alcohol and preservatives, vegan-friendly
Suitable for adults and young adults over 12 years
Can be taken long term
Indicated for:
Worry, low mood and a restless mind
Fatigue and low energy
Each 5ml dose contains:

Saffron crocus sativus (Iranian Sargol Saffron) equivalent to fresh stigma 50mg
Withania withania somnifera extract equivalent to dry root 1195mg standardised to contain 3.04mg of withanolides
Licorice glycrrhiza glabra extract equivalent to dry root 776mg standardised to contain 7.75mg glycyrrhizin
Skullcap scutellaria lateriflora extract equivalent to dry leaf 446.6mg

In a base of organic rice malt, natural sweeteners, natural flavours, citric acid and water.
Recommended adult dosage (over 12 years)
Shake well before use.

Be well: Take 5mls three times per day during periods of stress.
Always read the label and use as directed. If taking prescribed medication, consult your health professional before taking this product. If symptoms persist, seek professional medical advice. Seek professional medical advice for use during pregnancy. Not suitable for diabetics.

Store in a cool dry place and use within 90 days of opening.

Formulated in New Zealand from local and imported natural non-GMO ingredients