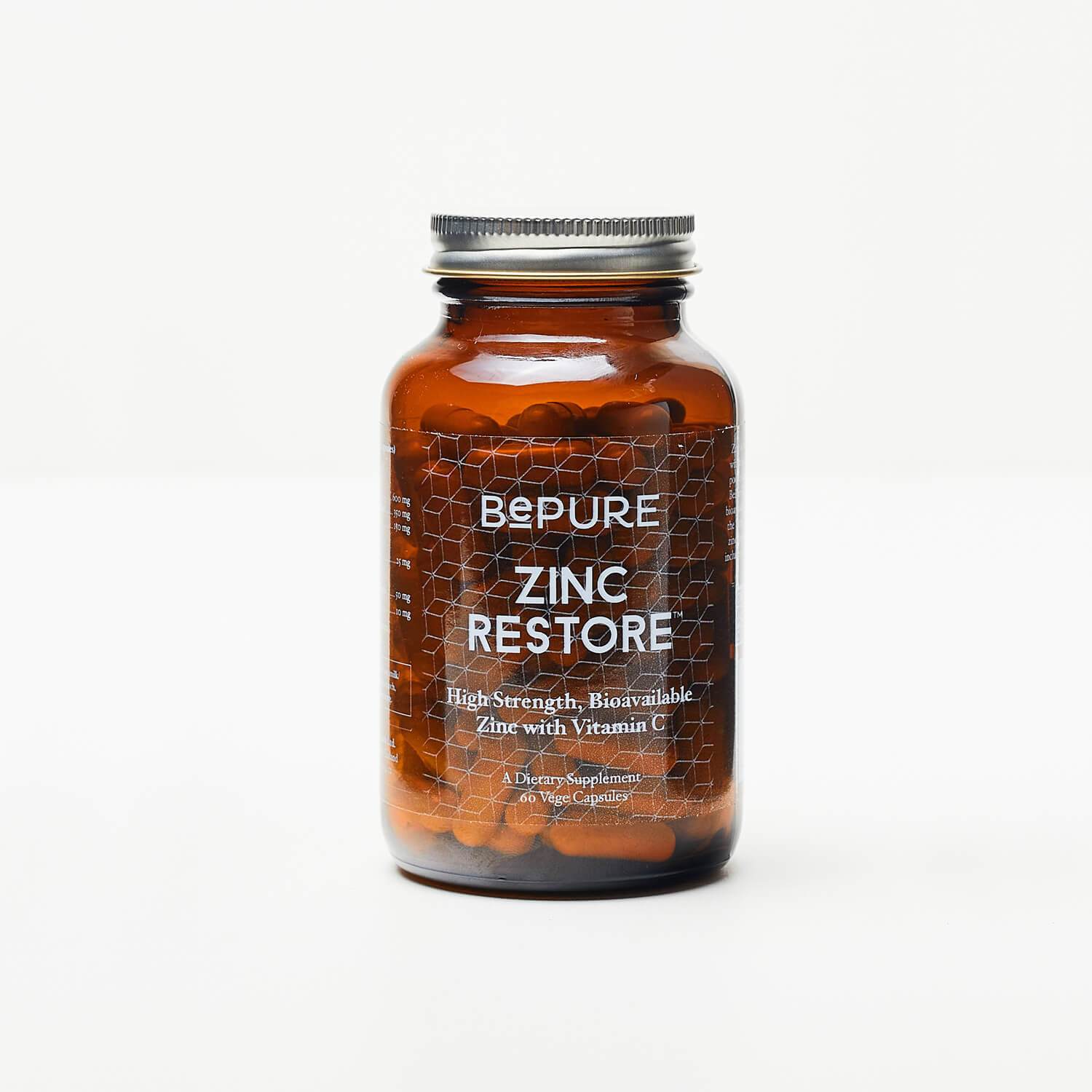 BePure
BePure Zinc Restore 60 Caps
BePure Zinc Restore is designed to boost low levels of zinc to support total health.
Our ultimate multivitamin BePure One contains a maintenance dose of Zinc in the formulation. This is recommended to maintain your zinc status once it is at an adequate level. However, if you are deficient it is not enough. We recommend taking BePure Zinc Restore to get your levels back up to where they need to be and then maintaining this level with BePure One.
Additional Information
Ingredients
Dosage
WHY DO WE NEED bepure ZINC restore?
Zinc is involved in over 200 enzyme reactions within our bodies. Zinc deficiency often means poorer absorption of zinc from high zinc foods. Meaning it simply isn't possible to restore zinc levels through diet alone.
BePure Zinc Restore provides a high strength, high bioavailable form of zinc picolinate to help restore the body's zinc status and optimise the function of zinc dependant enzymes. BePure Zinc Restore includes 1000 mg of buffered vitamin C to assist in the absorption of the zinc.
Who is BePure Zinc Restore for?
BePure Zinc Restore is for anyone that has low or deficient levels of zinc. You can quickly test your zinc levels with a functional taste test for assessing zinc levels, such as BePure Zinc Taste Test.
Zinc (Elemental) as Zinc Picolinate 15mg

Vitamin C (Ascorbic Acid) 300mg

Magnesium Ascorbate 150mg

Calcium Ascorbate 75mg

Vitamin B6 (Pyridoxal 5-Phosphate) 12.5mg

Querctin 10mg

All ingredients contain NO - gluten, yeast, soy protein, milk/dairy, corn, sodium, sugar, starch, artificial colouring, preservatives or flavouring.
Adults: 1 capsule daily or as directed by your health care practitioner.