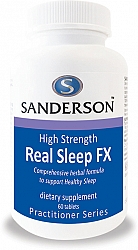 Sanderson
Sanderson Real Sleep FX 60 tabs
Sanderson Real Sleep FX is a comprehensive, high potency combination of 8 herbs plus magnesium to help your mind and body relax into sleep and then stay asleep. Sleep plays a vital role in good health and well-being throughout your life. Getting enough quality sleep at the right times can help protect your mental health, physical health, quality of life, and safety.
Additional Information
Ingredients
Dosage
Precautions
The way you feel while you're awake depends in part on what happens while you're sleeping. During sleep, your body is working to support healthy brain function and maintain your physical health. In children and teens, sleep also helps support growth and development. The damage from sleep deficiency can occur in an instant (such as a car crash), or it can harm you over time. For example, ongoing sleep deficiency can raise your risk for some chronic health problems. It also can affect how well you think, react, work, learn, and get along with others.
Magnesium Amino Acid Chelate (30mg elemental)
Red date (zizyphus jujube) 20:1 extract (dry equiv. 1500mg) 150mg
Passionflower (passiflora incarnata) 20:1 extract (dry equiv. 600mg) 75mg
Hops (humulus lupulus) 20:1 extract (dry equiv. 600mg) 30mg
American scullcap (scutellaria latiflora) 20:1 extract (dry equiv. 600mg) 30mg
Tart cherry (prunus cerasus) 20:1 extract (dry equiv. 600mg) 30mg
Chamomile (matricaria recutita) 20:1 extract (dry equiv. 500mg) 30mg
California poppy (eschscholtzia californica) 20:1 extract (dry equiv. 200mg) 25mg
Non-actives calcium carbonate, cellulose, stearic acid, magnesium stearate 10mg
Dosage: 1-2 tablets daily an hour before bedtime or as professionally prescribed.
Do not use if pregnant or breastfeeding.
Do not drive or operate machinery after taking this product.
Do not use with anti-depressant medication without consulting your health professional.
If taking other medication or if in doubt please consult your health professional.
This formulation is free from artificial flavours, sweeteners and preservatives.
Contains california poppy, passionflower and other herbs that might cause an allergic reaction in rare cases.
Discontinue use if you have a reaction