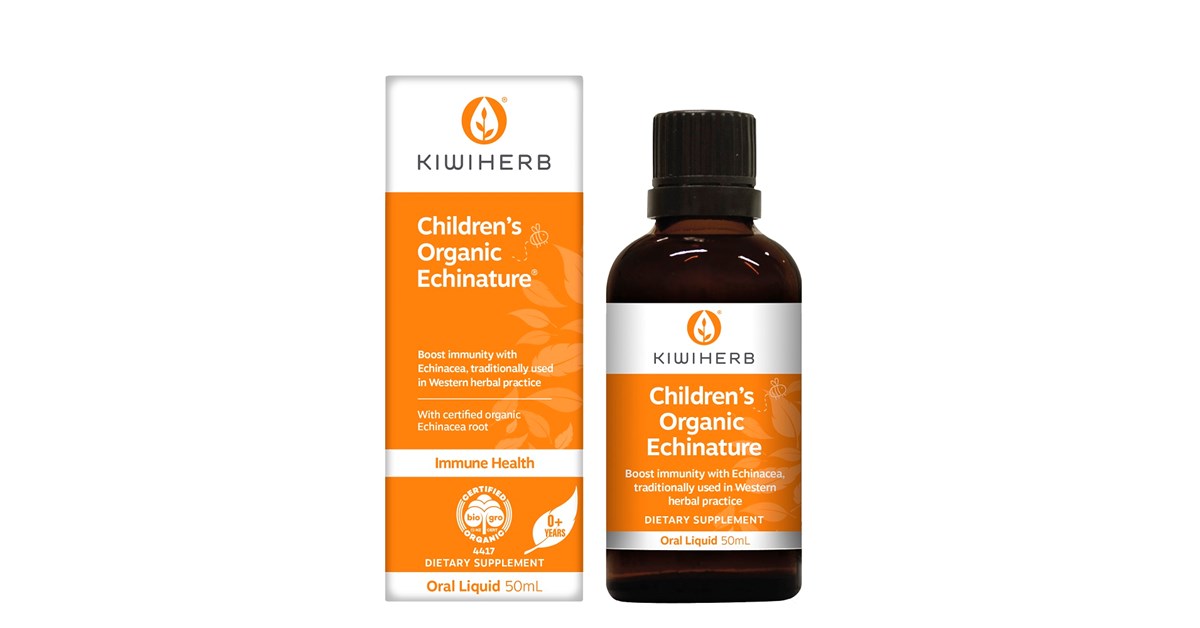 Kiwiherb
Kiwiherb Childrens Organic Echinature 50ml
Children's Echinature® is the essential immune product specially formulated for children 0 - 12 years, made from premium certified organic Echinacea root, in a base of organic apple juice with natural orange flavour.
Additional Information
Product Benefits
Ingredients
Dosage
Precautions
Kiwiherb Children's Echinature® is made from premium organic Echinacea root grown in the beautiful Canterbury Plains of New Zealand.
Being in a convenient liquid form, Children's Echinature® is great for children who can't swallow tablets, and it also allows for greater dosage flexibility.
Helps to maintain healthy immune function

Symptomatic relief of recurrent upper respiratory tract infections

May reduce the severity and duration of colds

Specially formulated for children 0 - 12 years

Convenient liquid formulation

Certified organic formula

Alcohol Free
Echinacea purpurea root (organic) 200mg/ml.
In a base of organic apple juice concentrate with natural orange oil and fennel flavour.
Contains no Alcohol.
Contains no artificial colours, flavours, sweeteners or preservatives, gluten, yeast or dairy derivatives.
Infants under 1yr: 2 - 10 drops (0.1 - 0.5ml);
Children 1-2yrs: 10 - 20 drops (0.5 - 1ml);
Children 3-5yrs: 1 - 2ml;
Children 6-12yrs: 2 - 4 ml;
Adults: 4 – 10ml (for sensitive types or those wishing to avoid alcohol).
Maintenance Dose: Take once daily.
During risk times: Take 2 - 4 times daily.
May be taken undiluted or in a small amount of water or juice.
If symptoms persist consult your healthcare practitioner. Use only as directed. Always read the label. T

hose allergic to Asteraceae family plants (e.g. chamomile, artichokes, daisies) should take care when taking Echinacea due to possible allergic reaction.

Temporary harmless tingling in the mouth may occur immediately after taking as a natural effect of high quality Echinacea – this is normal and indicative of the quality & potency of Echinacea.