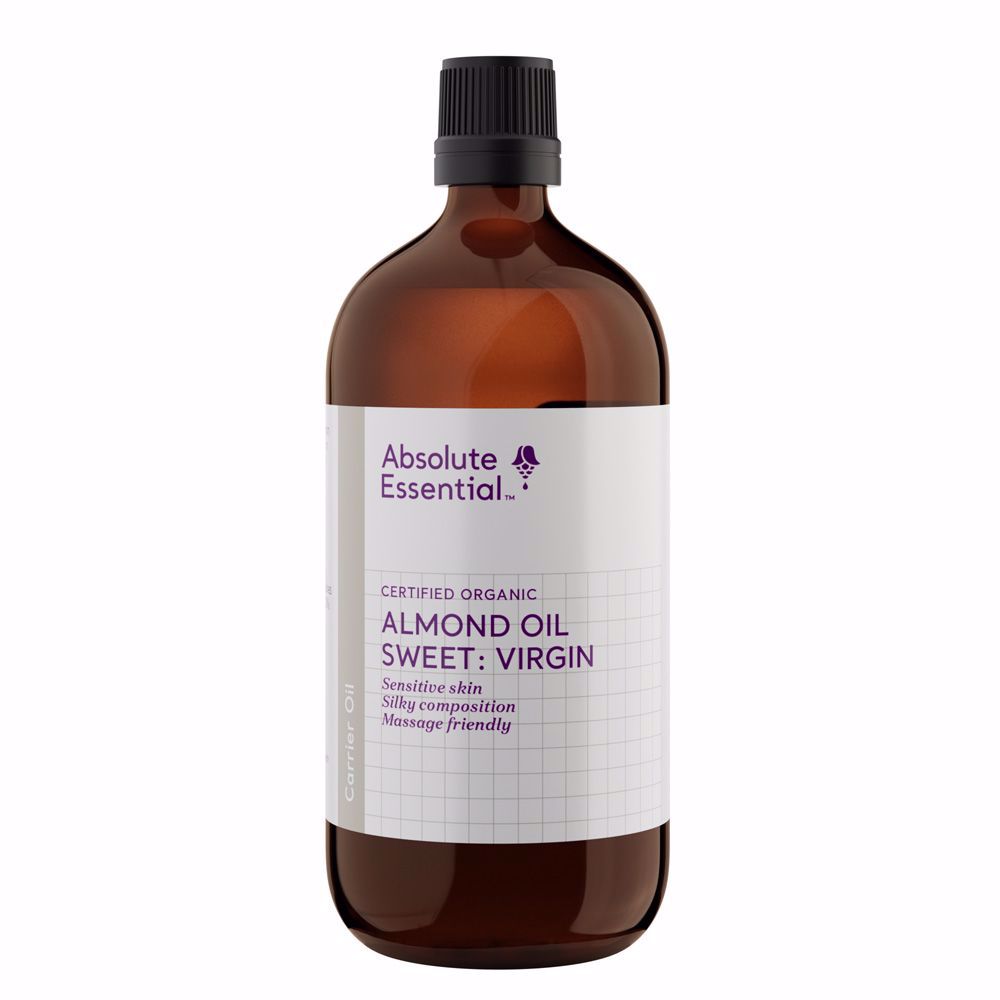 Absolute Essential
Absolute Essential Almond Oil Sweet Certified Organic 200ml
This wonderful certified organic carrier oil blends beautifully with essential oils and offers an exceptional level of absorption to promote optimum therapeutic benefit. It supports the recovery process of dry, itchy skin, helps to ease body aches and is suitable for most skin types. Its nourishing and moisturising properties offer an excellent medium for massage. It has a silky composition that is especially gentle for use on babies and children.
Additional Information
Product Benefits
Ingredients
Dosage
The almond tree is native to the warmer parts of western Asia and North Africa but has been distributed all over the warm temperate regions of the world. The history of the almond goes back to ancient times. There were many biblical references to the almond tree and it was described among the best fruits in the land. However almonds and almond oil were well known in Greece and Italy even before the Christian era.
Many wonderful virtues were attributed to the almond but it was chiefly valued in ancient times for its supposed ability to prevent intoxication. Sweet almond oil has since been discovered to be rich in vitamins A, B1, B6, B2 and E, as well as Omega-9 and Omega-6 fatty acids. Its use in massage is supported by the fatty acids that can act as mild topical pain relievers for sore muscles.
It has a softening and cleansing action on the skin and has become well established in the skin care industry. It has also been promoted to help ease the aches and pains associated with colic.
Skin Care
This nourishing oil is packed full of vitamins A, B, B2, B6, and unrefined and unsaturated essential fatty acids. It is a wonderful massage oil that is suitable for babies and children.
Carrier Oil
With a perfect natural consistency for deep tissue absorption, this an excellent carrier for essential oil blending. It is widely appreciated for bringing its own beautifying and conditioning qualities.
Skin Irritations
The application of Sweet Almond supports the body's natural recovery processes and has nourishing, restorative qualities for itching or swelling.
Baby's Scalp
This gentle oil provides wonderful nourishment for baby's skin. It can also be used for massaging into the baby's scalp to assist the softening and loosening of cradle cap.
Prunus amygdalus, nuts, virgin cold pressed, Certified Organic, Spain
Safety Considerations: Very safe
Please note: Therapeutic plant oils are used to support natural body process for optimum health and wellbeing. The information here is NOT meant as recommendation for cure of any medical condition or disease.