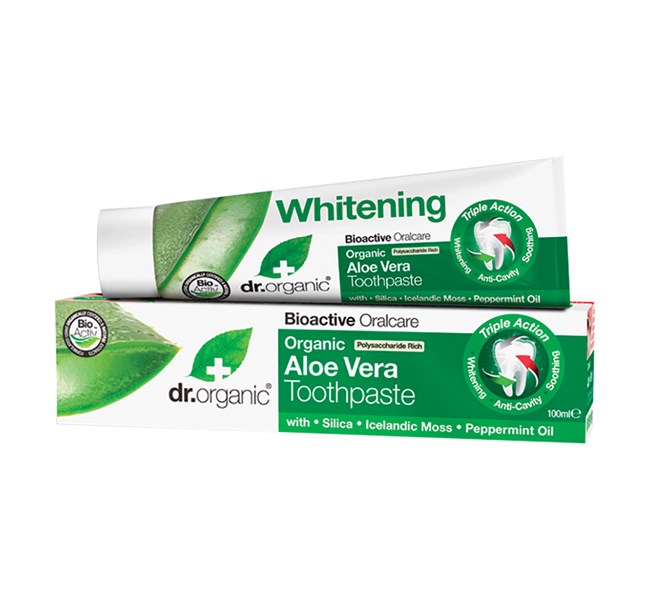 Dr. Organic
Dr Organic Aloe Vera Toothpaste 100ml
This triple action toothpaste is formulated with Organic Aloe Vera, Silica, Icelandic Moss, Horse Chestnut and Tea Tree. Thanks to its soothing, whitening and anti-cavity properties, regular brushing with this unique tingling fresh toothpaste helps soothe and restore the gums, and protect from bacteria, one of the main causes of plaque and tartar. Suitable for Vegans.
Product Benefits
Ingredients
Precautions
Soothing
Anti-Cavity
Anti-Bacteria
Whitening
Cruelty Free
Glycerin, Aloe barbadensis leaf Juice, Sorbitol, Hydrated silica, Hydroxyethylcellulose, Mentha piperita oil, Sodium lauroyl sarcosinate, Menthol, Cetraria islandica extract, Sodium monofluorophosphate, Escin, Melaleuca alternifolia (leaf) oil, Xylitol, Aqua, Sodium benzoate, Potassium sorbate, Citric acid.

Contains Sodium monofluorophosphate (a source of fluoride at 1000ppm).
Due to the ingredients natural origin, colour and consistency may vary from batch to batch. This does not effect the quality of the product.
Keep out of reach of children. Do not use on animals. Store in a cool dry place.