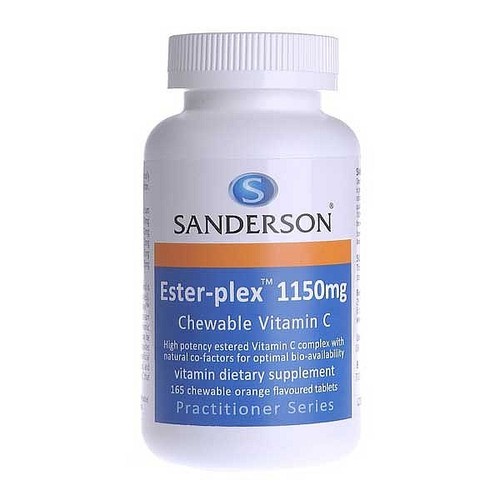 Sanderson
Sanderson Vitamin C Ester-Plex 1150mg 165 Chewable Tabs
Sanderson Ester-Plex 1150mg Chewable Vitamin C is a high strength, chewable vitamin C which contains natural metabolites to ensure optimum bio-availability to the body. This ensures the vitamin C is absorbed better than ordinary vitamin C. The vitamin C in Ester-Plex is also buffered to reduce the chance of gastric upset.
Additional Information
Product Benefits
Ingredients
Dosage
Ester-Plex 1150mg also contains natural fruit co-factors rich in vitamin C including Acerola Cherry, Citrus Bioflavanoids, Rosehips and Camu Camu.

Sanderson Ester-Plex provides potent immune support, especially during winter; it is also an effective antioxidant, and may be beneficial as a support in recovery from injury or at times of stress when the need for vitamin C increases.
High potency, chewable estered Vitamin C
With natural co-factors for optimal bio-availability
Superior low allergy formulation
Each Chewable Tablet Provides:

Vitamin C with metabolites (from Ascorbic acid, Calcium & Sodium ascorbate 1125mg) 1000mg
Camu Camu dried powder 10mg
Acerola (Malpighia punicifolia) dried fruit 5mg
Citrus bioflavonoids 5mg
Rosehips (Rosacanina) dried fruit powder 5mg
Sucrose/glucose/maltodextrin 743.56mg
Sorbitol//Xylitol 475mg
Stevioside 19mg
This formulation is free from yeast, wheat, fish, gluten, lactose, starch, dairy, corn, artificial preservatives & flavours.
Adults: Take 1-2 tablets daily or as professionally prescribed.

Preferably taken with food for increased absorption.