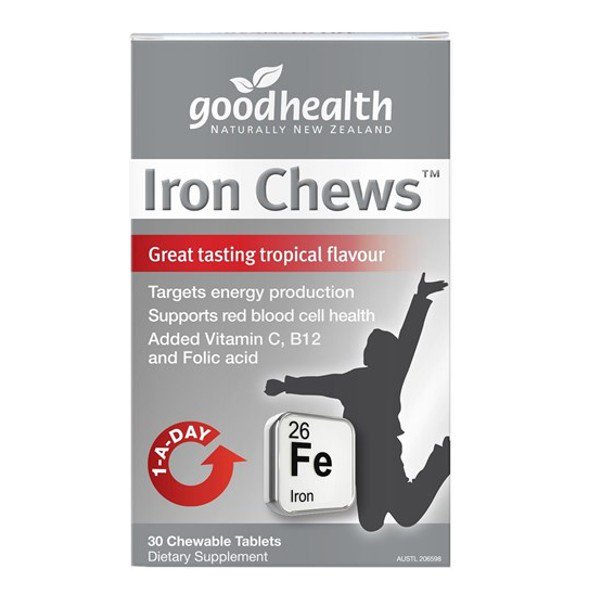 Good Health
Good Health Iron Chews 30 Tablets
Why should I take Good Health Iron Chews?Good Health Iron Chews are a great tasting, one a day chewable tablet providing 20mg of iron (per tablet) to help support the management of dietary iron deficiency.
Additional Information
Product Benefits
Ingredients
Dosage
Precautions
The specially designed formulation supports healthy iron levels in red blood cells, which play an integral role in the production of energy in the body. Iron Chews support optimal iron absorption and healthy blood, and are suitable for everyone concerned about dietary iron intake.
Product benefits: Supports energy production, Supports red blood cell health.
Product features:Targets energy production, No artificial sweetners, Added Vitamin C, B12 and Folic acid, One a day formula.
Ingredients: (per tablet) Ferrous fumarate (Equiv. Iron 20mg) 61mgAscorbic acid (Vitamin C) 50mgCyanocobalamin (Vitamin B12) 50mcgFolic acid 300mcg
Dosage:Adults and children over 3 years of age take 1 tablet daily or as professionally advised.
Do not take with haemochromatosis or iron overload.