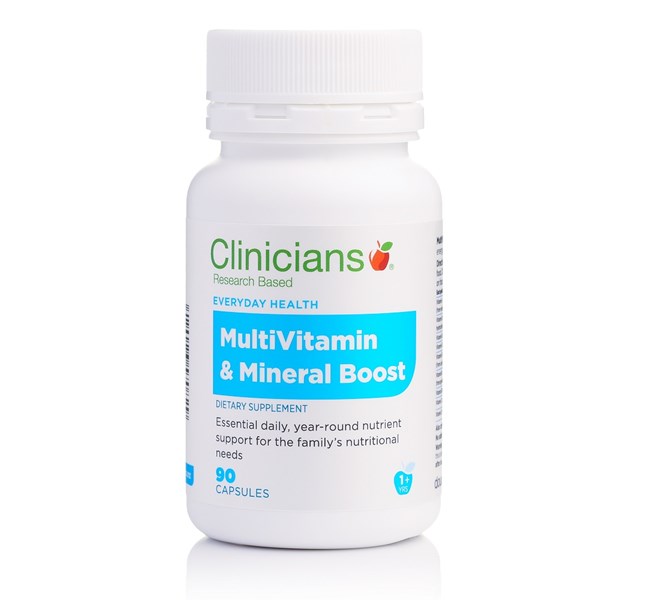 Clinicians
Clinicians MultiVitamin & Mineral Boost 90 Capsules
Provides 32 essential vitamins and minerals for family well-being and energy in an easy-to-take capsule format.
Additional Information
Product Benefits
Ingredients
Dosage
Precautions
Clinicians MultiVitamin & Mineral Boost provides a broad spectrum of vitamins and minerals in optimal amounts. Contains 32 key vitamins and minerals in therapeutic amounts and has nutrients low in New Zealand soils.
A good all round family multivitamin that can be used from ages 1 year and over
Supports nutritional needs for New Zealanders
To support vitality, energy and well-being on a daily basis
For those on medications to support healthy vitamin and mineral levels
Each gelatin capsule contains:

Ingredients Strength Units
Vitamin A (from retinol acetate) (250 IU) 75 mcg
Vitamin B1 (from thiamine hydrochloride) 2.5 mg
Vitamin B2 (riboflavin) 2.5 mg
Vitamin B3 (nicotinamide) 12.5 mg
Vitamin B5 (from calcium pantothenate) 10 mg
Vitamin B6 (from pyridoxine hydrochloride) 5 mg
Vitamin B12 (as cyanocobalamin) 6.2 mcg
Vitamin C (ascorbic acid) 62.5 mg
Vitamin C (from calcium ascorbate) 62.5 mg
Vitamin D3 (as cholecalciferol) 2.5 mcg
Vitamin E (from d-alpha-tocopheryl acetate) 25 mg
Betaine (from betaine hydrochloride) 12.5 mg
Biotin 12.5 mcg
Boron (from boron citrate) 250 mcg
Calcium (from calcium lactate) 25 mg
Choline (from choline bitartrate) 6.2 mg
Chromium (from chromium amino acid chelate) 25 mcg
Citric Acid 50 mg
Citrus Bioflavonoid Complex 50 mg
Coenzyme Q10 1.2 mg
Copper (from copper gluconate) 125 mcg
Folic Acid 37.5 mcg
Inositol 6.2 mg
Iodine (from potassium iodide) 25 mcg
Iron (from ferrous fumarate) 250 mcg
L-Glutamine 6.2 mg
Magnesium (from magnesium carbonate) 12.5 mg
Manganese (from manganese amino acid chelate) 500 mcg
Molybdenum (from molybdenum trioxide) 12.5 mcg
Potassium (from potassium citrate) 5 mg
Selenium (from L-selenomethionine) 18.7 mcg
Zinc (from zinc amino acid chelate) 1.9 mg
Also contains: Magnesium stearate, silicon dioxide and tapioca. Total calcium content: 33mg per capsule.

No Added: Gluten, dairy, yeast, sugar, artificial colours, sweeteners, flavours or preservatives.
Adults: 1 to 2 capsules twice daily.
Children 6 to 12 years: 1 to 2 capsules daily with food.
Children 1 to 5 years: 1 capsule daily (contents of capsule to be mixed with fluid or sprinkled on food). Alternatively, use Clinicians MultiVitamin & Mineral Boost Powder, instead of capsules, for children.
This product contains vitamin A, at a daily amount that is considered to be suitable for pregnant women. A woman needs a different balance of nutrients during this time so if you are pregnant or planning to become pregnant, consult your health professional before taking this or any other supplement.