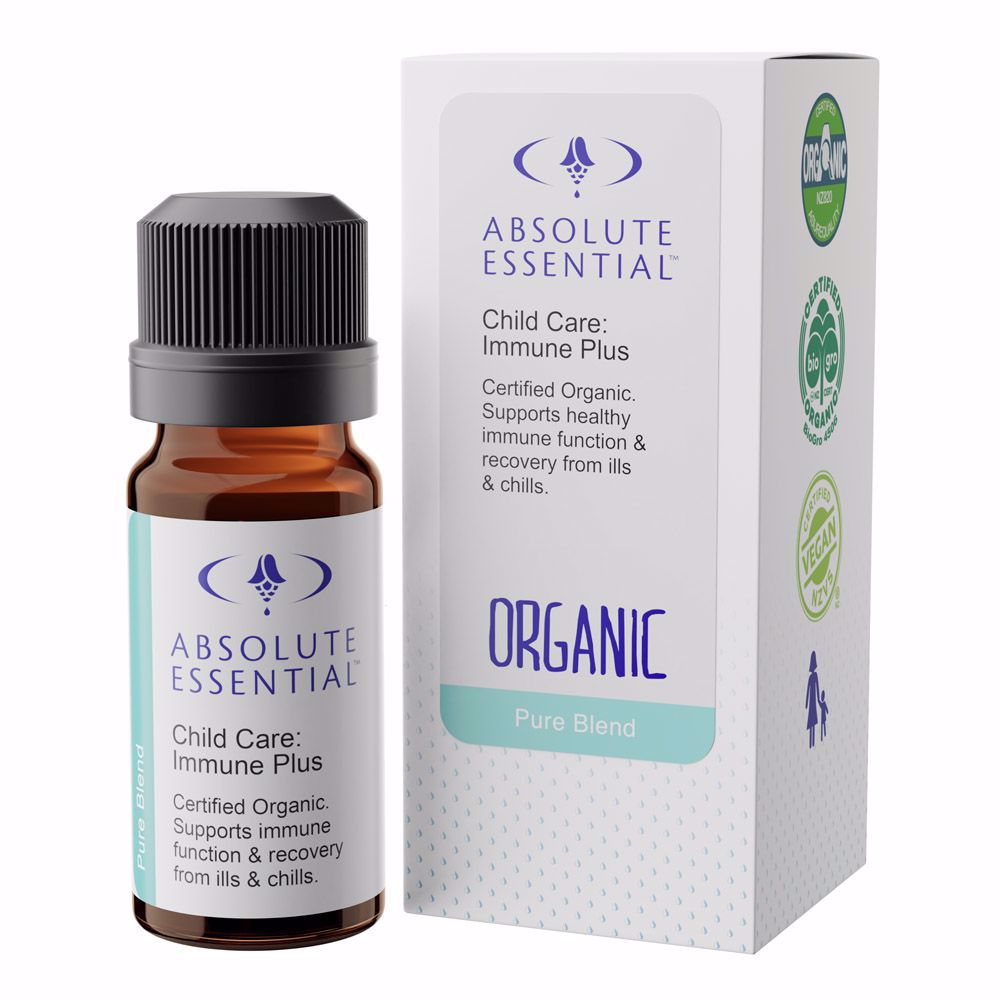 Absolute Essential
Absolute Essential Child Care Immune Plus Certified Organic 10ml
This synergy is designed to assist the healthy immune functions of your child and may be especially helpful when the inevitable childhood illnesses knock on your door. It supports the process of getting back to health safely and quickly. Suitable for diffusion, inhalation or bath, use as directed.
Additional Information
Product Benefits
Ingredients
Dosage
Precautions
Manuka (wild) Leptospermum scoparium
A beautifully versatile New Zealand native that is gentle and protecting. Traditional use: to ease congestion and coughs and aid natural breathing.
Bergamot (organic) Citrus auranthium var. bergamia
Traditional use: to balance crisis in body and mind; to strengthen immunity.
Ravensar (wild) Ravensara aromatica
Traditional use: An immunity tonic to combat flu, bronchitis, coughs & colds.
Lemon (organic) Citrus limonum
Traditional use: to stimulate the defence system; a positive, uplifting tonic.
Childhood Ills
Chickenpox, measles, rubella, colds and flu... this synergy offers natural support as your child grows through inevitable sicknesses. It can be used safely with prescribed medicines when necessary. Always consult a healthcare specialist.
Immune Protection
When children begin to socialise with their peers in day-care, kindergarten or school, they will become exposed to many new bugs. A routine night-time diffusion or bath with Child Care: Immune Plus will give their immune systems regular support to help them stay as healthy as possible.
Diffusion: 5 drops, allow 20 minutes, replenish as required. Inhalation: Put a few drops on pillow or collar of pyjamas. On tissue for ages 3 up. Bath: 5 -10 drops mixed into milk and added to the bath for children from age 2, 1 or 2 drops in milk and added to baby bath from 6 months.
Safety: This blend is professionally designed for use with infants and is very safe if applied as directed. Essential oils should not be applied neat to baby skin. Not for internal use: if ingested do not induce vomiting; drink milk and consult a health specialist. Avoid contact with eyes: flush with water. Keep out of reach of children.Please note: Therapeutic plant oils are used to support natural body process for optimum health and wellbeing. The information here is NOT meant as recommendation for cure of any medical condition or disease.