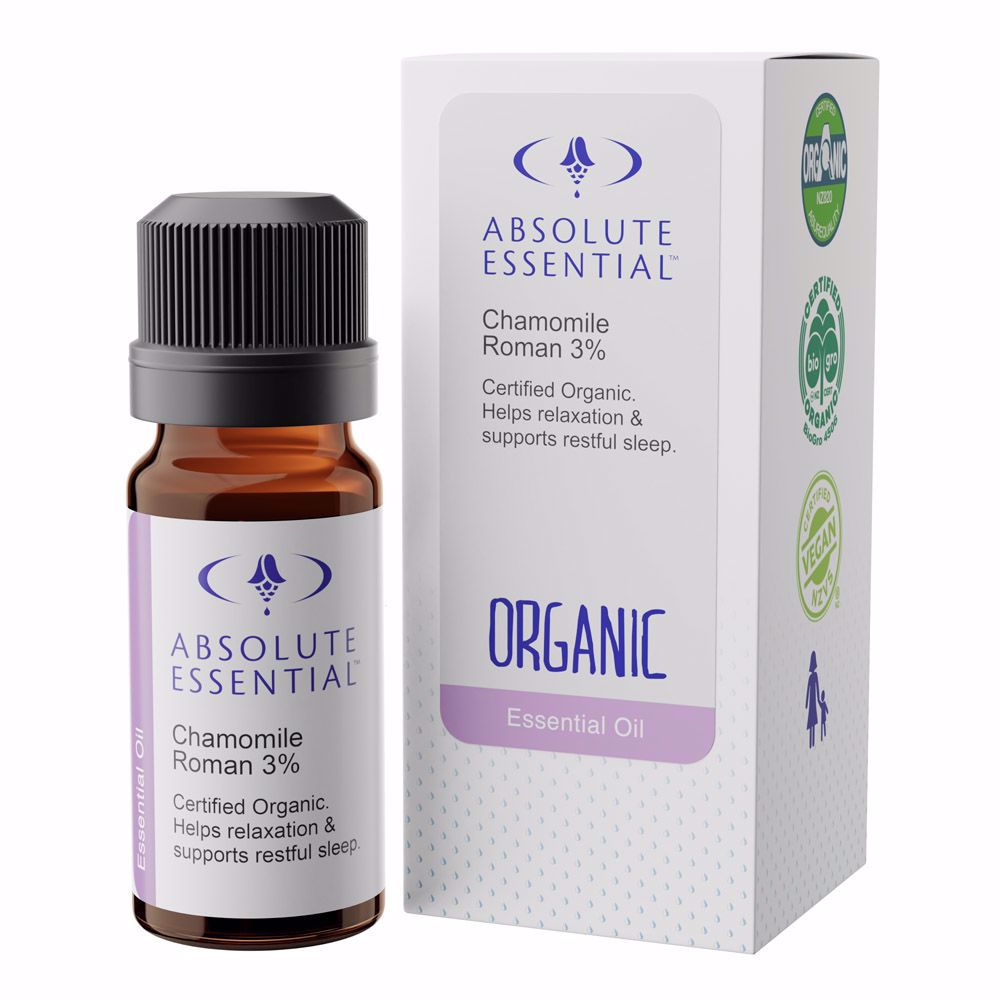 Absolute Essential
Absolute Essential Chamomile Roman 3% Certified Organic 10ml
Chamomile Roman essential oil supports processes of relaxation and restoration. It has a general calming quality and is especially gentle for children and babies. This product has been created as a body blend with nourishing Jojoba carrier oil, not suitable for use in diffusers or the bath. Blends well with: Lavender True, Sandalwood, Chamomile German, and with 5 drops of Baby Care: Nose & Chest as a chest rub.
Product Benefits
Ingredients
Precautions
Sleep
Contains relaxing and mildly sedative properties and a soft, nurturing aroma to assist natural processes for restful sleep. Massage into pulse points before bedtime (or when sleep is disturbed).
Teething
For naturally gentle analgesic and relaxant properties, rub this blend onto the baby's neck and cheek, as required.
Colic
For those inexplicable spells of restlessness and distress, try this blend massaged gently to the tummy in a clockwise direction. Repeat hourly as required.
Fever
Massage on the back and tummy every couple of hours to help support a regular body temperature. (Always monitor fever very carefully and consult a health specialist to know the safe parameters and to rule out serious illness.)
Jojoba Oil golden (organic) Simmondsia chinensis
An excellent, nourishing carrier for skin blends. Rich in nutrients, easily absorbed.
Chamomile Roman (organic) Anthemis nobilis
A deep relaxant on the nervous system and ideal for restlessness at night.
Safety: As oil in a 3% blend this product does not require further dilution. It can be added to a blend or gel or applied as it is. All Absolute Essential Mother & Baby care products are safe for babies, children and during pregnancy as directed.Please note: Therapeutic plant oils are used to support natural body process for optimum health and wellbeing. The information here is NOT meant as recommendation for cure of any medical condition or disease.