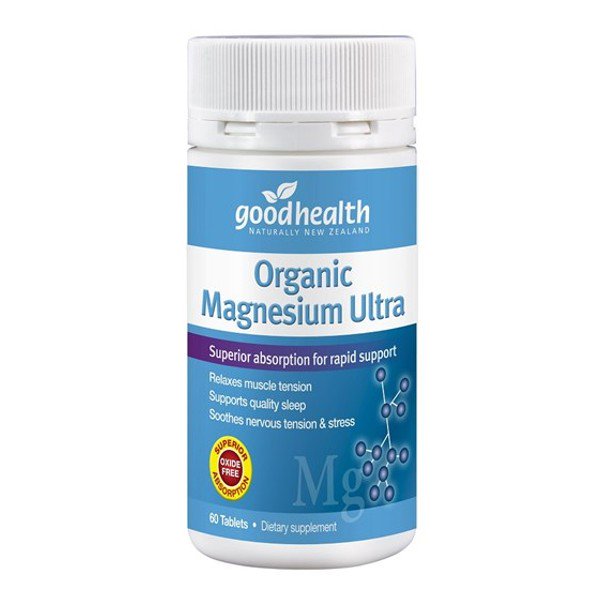 Good Health
Good Health Magnesium Ultra 60 Tablets
For superior absorption Magnesium Ultra™ is a high strength formula that is free of Magnesium-oxide. Magnesium Ultra™ is better utilised in the body because it contains more easily absorbable forms of magnesium plus added vitamins.
Additional Information
Product Benefits
Ingredients
Dosage
Precautions
This makes it faster acting and more effective for relaxing muscle tension and tightness, soothing nervous tension and stress, and assisting sleep.Magnesium also supports physical performance during intense exercise. Magnesium Ultra™ provides a therapeutic dose of Magnesium which is essential for optimal functioning of the body. Magnesium is vital for health but is easily depleted during times of high stress and modern living.
Product benefits:Superior absorption, Relaxes muscle tension, Supports quality sleep, Soothes nervous tension and stress, Supports heart & bone health, Supports pre-menstrual symptoms.
Product features:High potency magnesium tablet (220mg)Four highly absorbable forms of magnesium, Vitamin D & B6 for increased absorption, Convenience of an easy-glyde / swallow tablet format
Ingredients: (per tablet)Total Magnesium Complex 1301mgTotal Elemental Magnesium 220mgMagnesium Phosphate (Equiv. Magnesium 85mg) 411mgMagnesium Amino Acid Chelate (Equiv. Magnesium 75mg) 375mgMagnesium Citrate (Equiv. Magnesium 40mg) 248mgMagnesium Asparate (Equiv. Magnesium 20mg) 267mgPyridoxine Hydrochloride (Vit B6) (Equiv. Pyridoxine 30mg) 37.6mcgCholecalciferol (Vit D 100IU) 2.5mcg
No artificial flavours, sweeteners, preservatives or colours used in this product. No added gluten, egg, dairy, yeast or wheat.
Adults: Take 1 tablet daily with food or as professionally advised.
Do not use if cap seal is broken. If symptoms persist consult your healthcare practitioner.