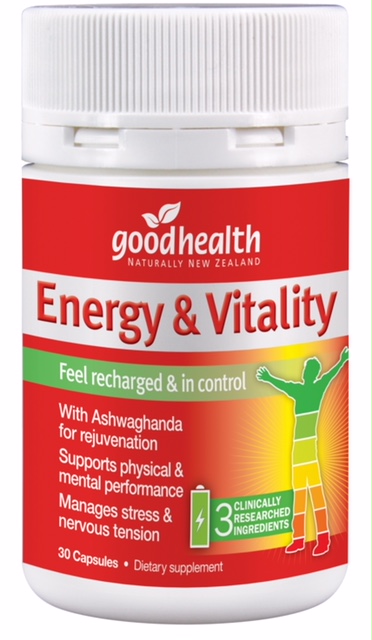 Good Health
Good Health Energy & Vitality Support 30 Capsules
(Formerly known as Stress & Vitality)
This triple action formula supports resistance and adaptation to stress and nervous tension.
Additional Information
Product Benefits
Ingredients
Dosage
Precautions
It contains 3 key ingredients at clinically researched doses; Ashwagandha for nervous system support & rejuvenation, Siberian Ginseng for energy & vitality and Rhodiola for stamina and physical and mental performance.
Product benefits:Feel recharged and in control, Supports physical & mental performance, Manages stress & nervous tension, Supports energy and vitality.
Product features:3 clinically researched ingredients at the researched doses, Triple action adaptogen formula to support the adrenal glands and therefore the capacity to deal with stress.
Convenience of 1 a day dosage (up to 2 if required)
Ingredients: (per capsule) Herbal extracts equivalent to dry: Rhodiola rosea Root (Rhodiola) 880mg (Equiv. Rosavin) 6.6mg(Equiv. Salidroside) 4.4mgWithania somnifera Root (Aswagandha) 1,500mgEleutherococcus senticosus Root (Siberian Ginseng) 1,500mg​Amino Acid: Tyrosine 50mg
No artificial flavours, sweeteners, preservatives or colours used in this product.
Free from gluten, egg, dairy, wheat and soy.
Adults: Take 1-2 capsules daily.
If symptoms persist consult your healthcare practitioner.
Keep out of reach of children.
Do not use if cap seal is broken.
Not recommended during pregnancy or breastfeeding.