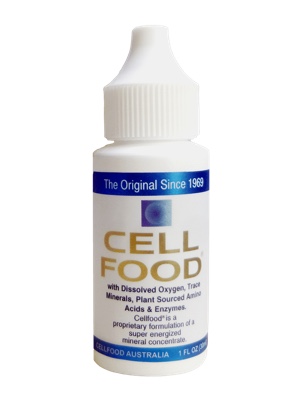 Cellfood
Cellfood Original Concentrate 30ml
The power of oxygen with hydrogen, electrolytes and 129 vital nutrients!
Additional Information
Product Benefits
Ingredients
Dosage
Precautions
The breakthrough Oxygen and Nutrient Formula that represents a Quantum leap in vital nutrition. Cellfood is a uniquely created, proprietary formulation that contains 78 ionic minerals, 34 enzymes, 17 amino acids, electrolytes and dissolved oxygen – and utilises a unique water-splitting technology. Cellfood provides an unsurpassed oxygen and nutrient delivery system that may be absorbed quickly and efficiently by every cell in the body. Cellfood is rich in beneficial antioxidants, and is highly alkalising.
CELLFOOD supports:
enhanced energy levels
cellular oxygenation
free radical removal
allergy relief
alertness and concentration
pH balance
the digestion process
nutrient absorption
removal of lactic and uric acid
recovery from injury
A proprietary blend of purified water, dissolved oxygen, iconic colloidal minerals, plant sourced enzymes & amino acids.
Adults: When you first start to take Cellfood, use 5 drops twice daily before meals; then increase gradually to 8 drops in 240 mL of purified or distilled water, or juice, 3 times per day-or during stress or physical activity. Best taken between meals (at least 15 min. before or 1 hour after). May mix 1 day's amount in water bottle and sip throughout day. Each 30 mL bottle of CELLFOOD contains 90 servings of 8 drops each, or 720 drops.
Some users may experience a cleansing response. If so, halve dosage at beginning, then gradually resume full dosage. Use CELLFOOD carefully over any surfaces and materials when undiluted, as product contains organic enzymes. Avoid eye contact; rinse with water if dropped in eyes.