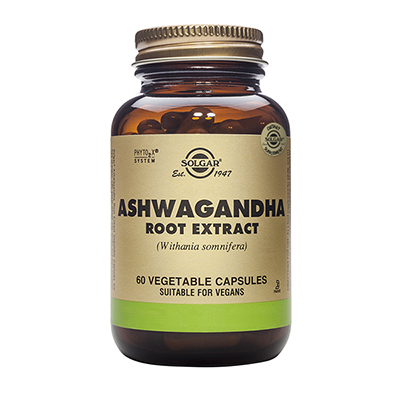 Solgar
Solgar Ashwagandha Root Extract 60 Vegetable Capsules
Ashwaganda is an adaptogenic herb that can help during times of stress, anxiety and nervous exhaustion.
Additional Information
Product Benefits
Ingredients
Dosage
Precautions
Ashwaganda is an Indian herb that is adaptogenic, anti-inflammatory, anti-microbial and more. It can also provide cardiovascular and immune support. It has been suggested that ashwagandha may be able to boost a weakened immune system or suppress an overactive one, thus its potential use in autoimmune disorders.
May be supportive for:

Arthritis
Inflammatory conditions
Anti-stress
Autoimmune conditions
Viral/bacterial/fungal infections
Cardiovascular health
Chronic Fatigue Syndrome
Standardised Ashwaganda Root Powdered Extract 300mg
(1.5% [4.5mg] withanolides)
Raw Ashwaganda Root Powder 100mg
PhytO2X (powdered blend beta carotene prep. and ascorbic acid)
As a herbal food supplement for adults, take one (1) vegecap daily, preferably at mealtime, or as directed by a healthcare practitioner.
Not suitable during pregnancy or breastfeeding unless under advice of a healthcare professional.