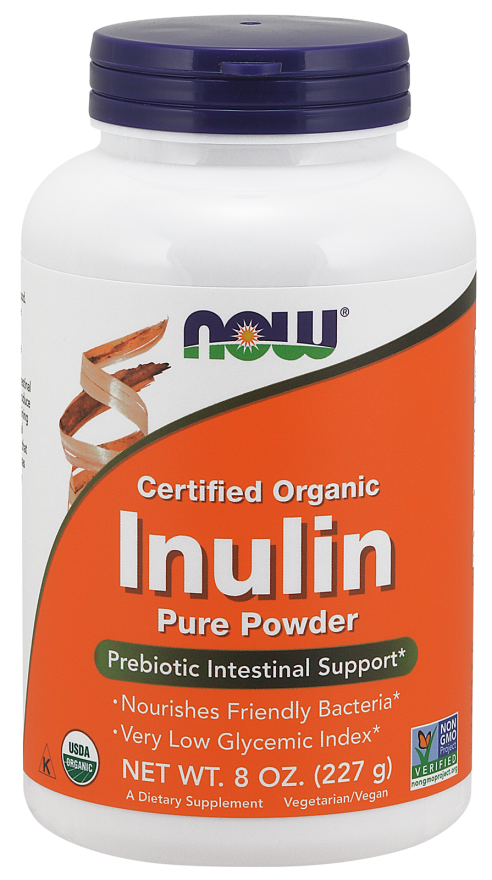 NOW
Now Inulin Prebiotic Powder 227g
Inulin, a fructooligosaccharide (FOS), is a soluble prebiotic fibre that is resistant to digestion and reaches the large intestine essentially intact. Intestinal probiotic bacteria consume Inulin and in turn, produce the short-chain fatty acids that nourish the cells lining the colon. Inulin thus helps to maintain intestinal health and function. Inulin has a pleasant flavour that adds a mild sweetness to foods and drinks, but has a very low glycemic index and will not negatively impact serum glucose levels.
Additional Information
Product Benefits
Ingredients
Dosage
Precautions
Help maintain healthy bacteria: The body normally maintains a balance of "friendly" flora in the intestines; unfortunately factors such as improper diet, stress, gastrointestinal problems, and use of antibiotics may disrupt this delicate balance. Scientific research conducted in Japan has shown that FOS are selectively used by friendly flora such as bifidobacteria and lactobacilli.
Nourishes friendly bacteria
Very low glycemic index
Prebiotic intestinal support
Pure powder
Certified organic
NON GMO
Vegetarian/vegan
Pure Certified Organic Inulin Powder (from Blue Agave) net.wt. 8oz (227g) Serving Size – 1 level teaspoon (2.8g)
Take 1 level teaspoon 1 to 3 times daily. Mix into your favorite beverage or food. Begin with 1 teaspoon a day and slowly increase dosage to limit GI discomfort.
Store in a cool, dry place after opening.
Caution: For adults only. May cause mild transient GI discomfort. Consult physician if pregnant/nursing, taking medication, or have a medical condition. Keep out of reach of children