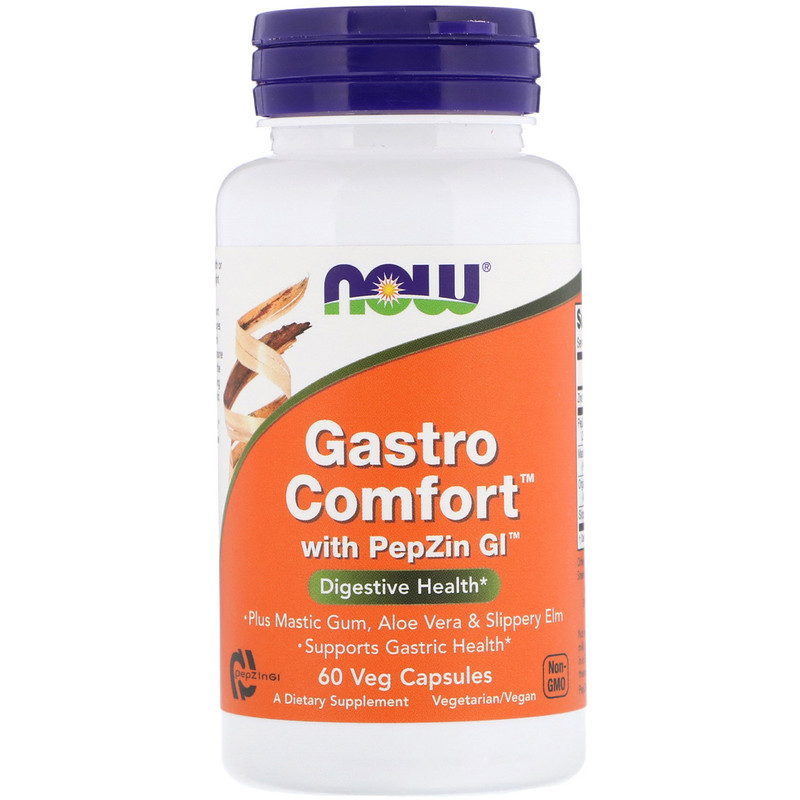 NOW
Now Gastro Comfort with PepZin GI 60 Vegetable Capsules
NOW® Gastro Comfort™ is formulated to support a healthy stomach lining. Gastro Comfort™ features the clinically tested ingredient PepZin GI™, which is a proprietary form of zinc complexed with carnosine that has been shown to support the integrity of the stomach lining by promoting its own natural healing processes. Gastro Comfort™ also includes mastic gum, a resin from the mastic tree, which has traditionally been used to maintain gastric health. In addition, this product has slippery elm and aloe vera to support a healthy digestive system.
Product Benefits
Ingredients
Dosage
Precautions
Contains complex of zinc and L-Carnosine that may help to relieve gastric discomfort
• Plus Mastic Gum, Aloe Vera & Slippery Elm
• Supports Gastric Health
• Support integrity of stomach cells and promotes healthy mucous secretions
Ingredients (per 1 veg capsule):
Zinc (from PepZin GI™) 5 mg
PepZin GI™
(Zinc-L-Carnosine Complex) 37.5 mg
Mastic Gum Powder
(Pistacia lentiscus) (Sap) 50 mg
Organic Aloe Vera
(Aloe barbadensis) (Inner Leaf) (200:1) 50 mg
Slippery Elm (Ulmus rubra) (Bark) 100 mg
Take 1 capsule twice daily, with or without meals.
Taking this product for at least eight weeks is recommended for best results.
For adults only.
Consult physician if pregnant/nursing, taking medication, or have a medical condition. Keep out of reach of children.