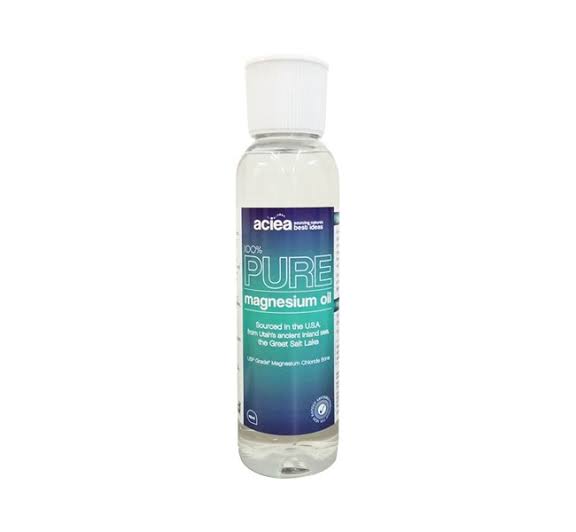 Aciea
Aciea Magnesium Oil 100% Pure 118ml
Aciea 100% Pure Magnesium Oil provides a crystal clear, odour-free Magnesium Oil. It is a concentrated essence of pure sea water.
Additional Information
Product Benefits
Ingredients
Dosage
Precautions
Aciea 100% Pure Magnesium Oil assists the body's own system in restoring healthy magnesium cellular integrity. This form of transdermal magnesium therapy is designed to provide magnesium's therapeutic benefits for conditions such as muscle tension, cramps, pain, migraine headaches etc. Magnesium Oil bypasses the side effects of oral magnesium and is absorbed directly through the skin.
Helps Relieve Aches, Pain, Cramps and Spasms
Helps Soothe and Relax Muscles
Helps Improve Quality of Sleep
Helps Calms Overactive Nerves
Helps Nourishes the Skin
Easy and convenient to use - just apply to the skin
Rapid absorption into the tissues through the skin for quick uptake into cells and local effects on muscles and skin
Bypasses the gastro-intestinal tract, therefore will not have a laxative effect
Skin absorbs more magnesium than through delivery by oral supplements
100% pure USP grade magnesium chloride brine from the pristine waters of Utah's ancient inland sea, the Great Salt Lake. Every 30ml of Aciea Pure Magnesium Oil contains 2500mg of actual magnesium.
Directions:
Aciea Pure Magnesium Oil can be applied to the skin or used in a foot bath. Simply apply onto skin, massage and repeat to cover arms, legs and any area needing special attention. For sensitive skin, begin with a low dosage and dilute if irritation occurs. A white salt residue may form on the skin where the Magnesium Oil has been applied and can be washed or wiped away with a damp cloth.

For a foot bath, pour 60 to 120ml of Magnesium Oil into a tub large enough to hold both feet when flat. Add only enough water to cover the tops of the toes and soak feet 15 to 20 minutes. After soaking rinse with water (if desired) or towel dry. Discard liquid after soaking.

Magnesium Oil is also a highly effective deodorant for under the arms and on the feet.
If used at full strength directly on the skin, people with very sensitive skin may experience some slight stinging – this will go away after you rinse it off. For people with very sensitive skin use a 50/50 dilution.