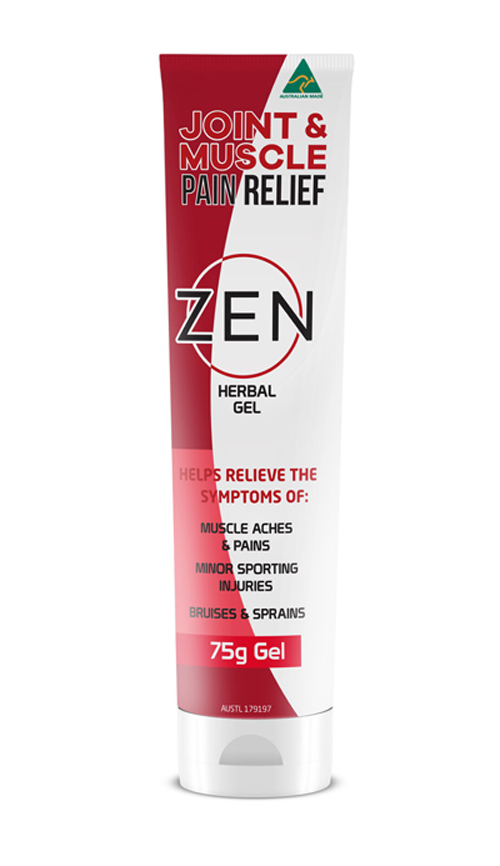 Zen
Zen Pain Relief Herbal Gel 75g
Zen Herbal Gel is a combination of 8 traditional herbal medicines and 2 essential oils that penetrate directly into the site of pain or injury quickly.
Additional Information
Product Benefits
Ingredients
Dosage
Precautions
The herbs and oils in the Zen Herbal Gel have been selected for temporary pain relief and local reduction in inflammation whilst improving circulation and healing to the specific area. Zen Herbal Gel is manufactured to the highest pharmaceutical standards in government licensed premises. Only the best quality ingredients are used and are rigorously scientifically tested for identification, quality and potency.
May help with:
Muscle pain
Arthritis and rheumatism
Minor sporting Injuries
Joint pain
Bruises and sprains
Muscle Spasms

Zen Herbal Gel contains: Angelica to help enhance circulation
Arnica is trusted worldwide for its relief of stiffness, bruising, trauma and associated pain
Boswellia to help reduce pain, stiffness and swelling
Pseudoginseng & Commiphora to help relieve pain
Spatholobus relaxes tendons and relieves joint pain
Dipsacus helps relieve stiffness and joint pain, and minor sporting injuries
Drynaria to help repair ligament damage
Each gm contains extracts equivalent to

Spatholobus suberectus stem 15gm Dipsacus japonicus root 9mg Panax pseudoginseng root 25mg Angelica Polymorpha root 15mg Boswellia carterii stem bark resin 12mg Arnica montana flower 1mg Drynaria fortunei rhizome 10mg Commiphora molmol stem bark resin 13mg Menta arvensis oil 100ul Cajiput oil 5ul Contains ethanol Contains phenoxyethanol.
Adults & Children: Apply to affected area 1 to 4 times daily.
External use only. Do not apply to broken skin or sensitive areas. If skin sensitivity or pregnancy occurs discontinue use. Avoid eye contact. Avoid direct sun after applying. Always read the label and use only as directed. If symptoms persist, consult your healthcare professional.