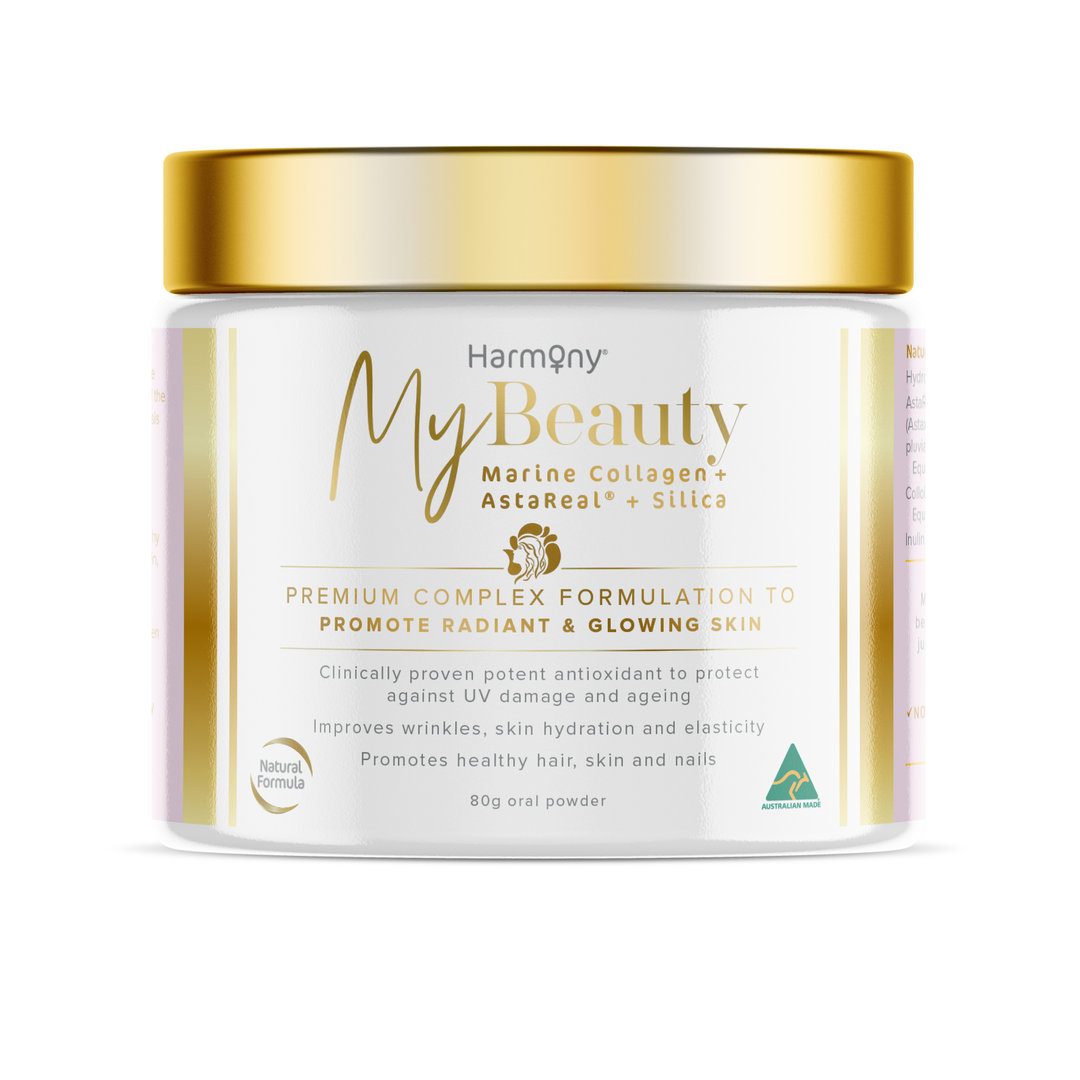 Harmony
Harmony My Beauty Oral Powder 80g
Harmony My Beauty is a premium complex formulation to promote radiant & glowing skin
Additional Information
Product Benefits
Ingredients
Dosage
With ingredients known to stimulate collagen and elastin synthesis, this product helps improve skin texture, support skin hydration and protect the skin against the effects of UV damage.

Hydrolysed marine collagen:
Helps improve the overall structure, luminosity & appearance of the skin by stimulating collagen and elastin synthesis

AstaReal Astaxanthin:
The most clinically trailed astaxanthin, and is one of nature's most powerful and pure antioxidants. It reduces wrinkles and fine lines, hyrdrates the skin, and revitalises and protects the skin from UV damage and sun exposure

Silica:
A natural mineral which helps strengthen hair and nails, and supports healthy skin by stimulating collagen and elastin synthesis.

Inulin:
A natural prebiotic fibre and naturally derived from plant-based source. It helps imporove ovreall digestive health while nourishing healthy gut bacteria, encouraging healthy skin from within.
Dairy Free
Gluten Free
No Artificial Colours
No Artificial Flavours
No Preservatives
Natural Ingredients per serve (4g):

Hydrolysed marine collagen 3g
AstaReal* 133.3mg (Equivalen to astaxanthin 4mg)
Colloidal silica anhydrous 450mg (Equivalent to silicon 210.2mg)
Inulin 416.7mg

*Astaxanthin ester extract from Haematococcus pluvialis (CPO-C Astaxanthin 3%)
Mix 1 tsp into a hot or cold beverage of your choice.