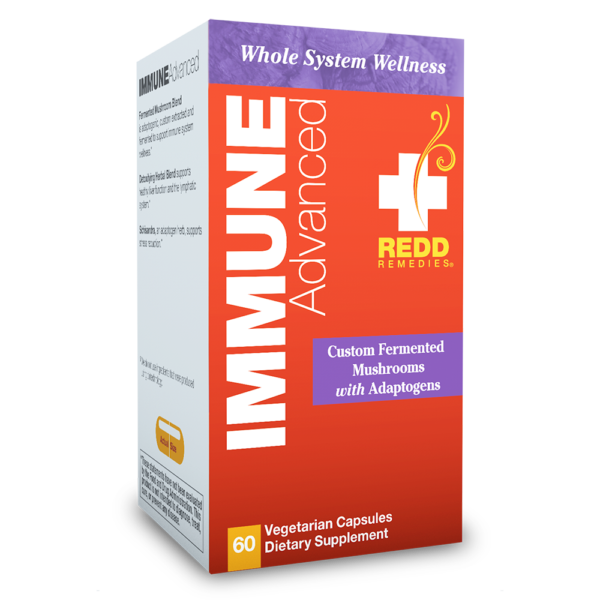 Redd Remedies
Redd Remedies Immune Advanced 60 Capsules
Immune Advanced™ offers deep, long-term immune support for whole system wellness.

This targeted formula goes beyond the surface and re-establishes harmony between the body and the immune system with a powerful blend of fermented mushrooms, detoxifying herbs and adaptogens. The unique blend supports balanced immune system function, supports liver health and lymph system function, and supports a balanced stress response as well as overall body detoxification pathways.
Product Benefits
Ingredients
Dosage
Precautions
The ingredients in Immune Advanced™ provide whole system wellness by supporting:
• A healthy immune system
• Balance and a healthy stress response
• A healthy lymph system
• Healthy liver function

The goal of Immune Advanced™ is balance over the immune system and is designed for long-term support.
Serving size: 2 capsules
Fermented Mushroom Blend: ……………………………...540 mg
Reishi (Ganoderma lucidum) (fruiting body) extract
Turkey Tail (Coriolus versicolor)(fruiting body) extract
Cordyceps (Cordyceps sinensis)(mycelium) extract
Detoxifying Herbal Blend: …………………………………..490 mg
Dandelion (Taraxacum officinale) (root and herb) extracts
Cleavers (Gallium aparine)(herb) extract
Burdock (Arctium lappa)(root) extract
Schisandra (Schisandra chinensis) (fruit) extract..…………100 mg

Other ingredients: vegetarian capsule (hypermellose and water), silicon dioxide, rice extract, rice hulls, gum arabic, expeller pressed sunflower oil.

Made without: sugar, sodium, yeast, wheat, gluten, artificial flavouring or colouring, or preservatives.
Suggested use:
2 capsules up to twice daily without food.



Always read the label and use as directed. If symptoms persist see your healthcare professional.
Avoid in pregnancy.
If taking any medication, consult with a healthcare practitioner prior to use.
Most mushrooms are mild blood thinners.