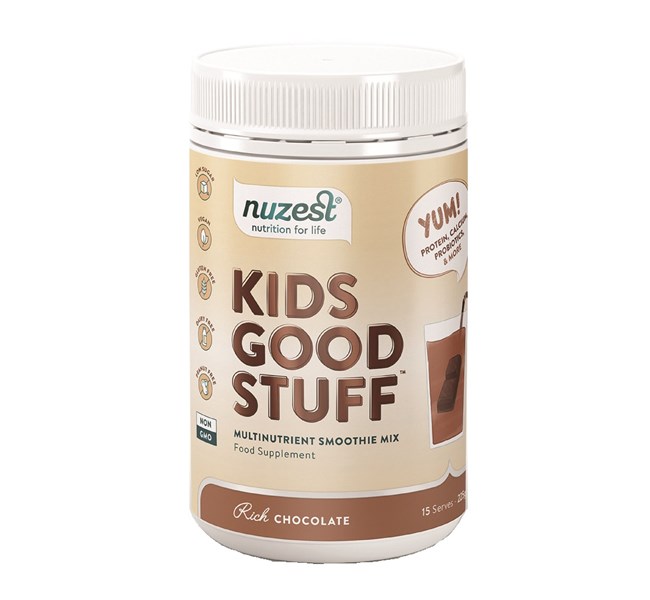 Nuzest
Nuzest Kids Good Stuff Rich Chocolate 225g
Nuzest Kids Good Stuff won't replace a healthy diet but it does provide comprehensive nutritional support for kids – and peace of mind for parents. Good nutrition in childhood is vital for growth, learning and immunity. Supplementing helps to fill the gaps from nutrient-deficient food and fussy eating – without meal-time battles.
Additional Information
Product Benefits
Ingredients
Dosage
Precautions
Nuzest Kids Good Stuff is packed full of a nutritious blend of supergreens, fruit, veggies and berries, boosted with vitamins, minerals, protein, digestive enzymes, prebiotics and probiotics – all delivered in a delicious smoothie great way to help kids get the nutrients they need to be happy and healthy from the inside out.

Kids Good Stuff is ideal for fussy eater, and those who may struggle to get their 5 plus a day, and being so yummy kids will want to have their smoothie every day.
Quick, easy, all-in-one nutritional superfood
Supports growth and vitality
Provides nutrition for health brains
Easy to digest and absorb
No bad stuff and ideal for fussy eaters
To make a yummy smoothie just add two scoops (15g) to 250ml of water or your favourite milk. Stir, blend or shake and enjoy daily! Best first in the morning.
No GMOs, chemicals or artificial preservatives

Free from gluten, dairy, soy and peanuts

Contains Vitamin K. Please seek medical advice if taking warfarin