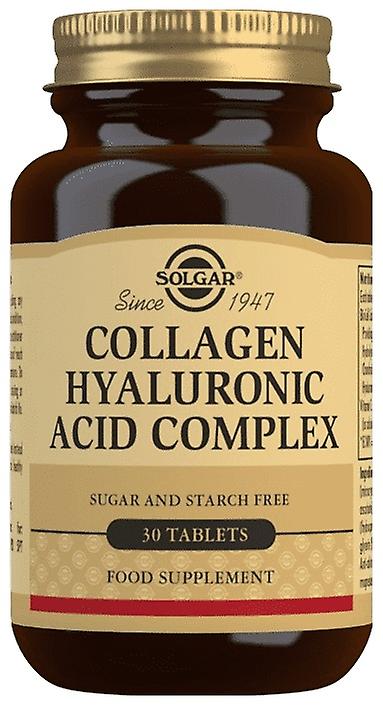 Solgar
Solgar Collagen Hyaluronic Acid Complex 30 Tablets
Solgar Hyaluronic Acid Complex tablets provide 120mg of Hyaluronic Acid plus BioCell Collagen II extract, chondroitin and vitamin C, helping minimize the impact of the aging processes; retain collagen, increase moisture, and provide elasticity and flexibility.
Additional Information
Ingredients
Dosage
Precautions
Hyaluronic acid is well known for its skin benefits, especially alleviating dry skin, reducing the appearance of fine lines and wrinkles and speeding up wound healing, promoting collagen synthesis and helping plump up skin tissue. It can also help with joint mobility and flexibility, helping act as a shock absorber and lubricant in joint tissue, helping our bodies withstand the impact of physical activity.
Each Tablet Provides:

BioCell Collagen II extract 1200mg
Providing:
Hydrolysed Collagen Type II 750mg
Chondroitin Sulphate 240mg (Bovine)
Hyaluronic Acid 120mg
Vitamin C (as calcium ascorbate) 100mg


Also contains: Microcrystalline Cellulose, Cellulose Gum, Silicon dioxide, Vegetable magnesium stearate, Hydroxypropylemethly cellulose, Titanium dioxide, Vegetable Glycerin.
As a food supplement for adults, take one (1) tablet daily, preferably at mealtime, or as directed by a healthcare professional.
Do not exceed directions for use.

If taking prescribed medication it is advisable to consult with your GP before taking this product. Supplements do not replace a balanced diet.