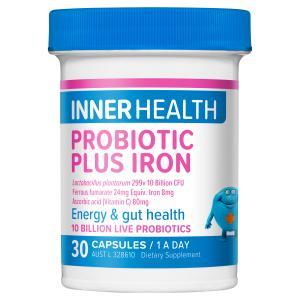 Inner Health
Inner Health Plus Probiotic Plus Iron 30 Capsules
Supports healthy energy and gut health
Product Benefits
Ingredients
Dosage
Precautions
Inner Health Probiotic Plus Iron helps:
• Support energy.
• Support digestive comfort.
• Support the absorption of iron from the diet.
• Support normal iron levels.
Lactobacillus plantarum 299v 10 Billion CFU
Ferrous fumarate 24mg Equiv. Iron 8mg Ascorbic acid (Vitamin C) 80mg
Take 1 capsule daily, or as directed by a healthcare professional.
If symptoms persist consult your healthcare professional. Do not use if cap and/or bottle seals are missing or broken. Vitamin and mineral supplements should not replace a balanced diet. Not for the treatment of iron deficiency conditions.