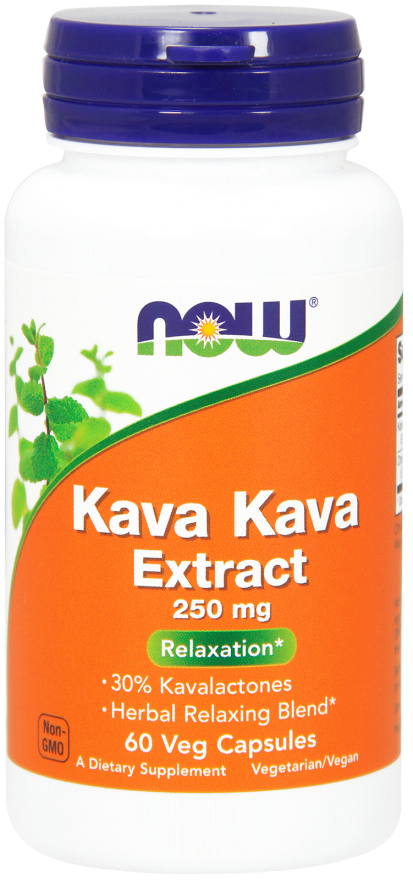 NOW
Now Kava Kava Extract 250mg 60 Vegetable Capsules
Kava is a herb in the pepper family that has been used as a ceremonial herb by indigenous peoples in the south Pacific. Kava is a potent relaxant and mood-regulator and kava supplements are now used by people for help in coping with stress, poor mood, irritability and insomnia. But kava products are very inconsistent, so first and foremost you definitely want to go with a name brand like NOW.
Secondly, you want a Kava kava extract not just powdered kava in a capsule or tablet. Kava extracts are prepared from raw kava kava herb in a process that raises and makes consistent ('standardizes') the level of the crucial active ingredients, kavalactones.
Additional Information
Product Benefits
Ingredients
Dosage
Precautions
NOW Kava kava extract has a minimum of 30% kavalactones, or about 75 mg per capsule. That is plenty to let you experience the full effects of kava. Kava is a great way to help take the edge off a stressful day or situation and can help promote relaxation in other circumstances too. Just be careful about using kava before driving or performing any dangerous tasks since it is a pretty powerful relaxant.
Kava Kava Extract (250mg) Description from Now
Can't sleep? Need to relax? Stressed out? And you haven't tried Kava yet? Since its introduction, users have raved over this 100% organic sedative herb, and its ability to encourage a natural state of relaxation. It gets its power from high concentrations of kavalactones present in the plant's thick roots. Kavalactones have been shown in many studies to promote a calming effect on the body's limbic system – a region of the brain that regulates emotion. And while it's always wise to consult a physician before use, Kava appears to be safe when taken as recommended. NOW Kava contains 100% root extract.
Kava Kava Extract (Piper methysticum) (Root)
(Standardized to contain min. 30% Kavalactones) 250 mg
Organic Eleuthero
(Eleutherococcus senticosus) (Root) 100 mg
Take 1 capsule 1 to 2 times daily as needed. Daily usage not to exceed 4 weeks.

Store in a cool, dry place after opening.
US FDA advises that a potential risk of rare, but severe, liver injury may be associated with kava-containing dietary supplements. Ask a healthcare professional before use if you have or have had liver problems, frequently use alcoholic beverages, or are taking any medication.
Stop use and see a doctor if you develop symptoms that may signal liver problems (e.g., unexplained fatigue, abdominal pain, loss of appetite, fever, vomiting, dark urine, pale stools, yellow eyes or skin). Not for use by persons under 18 years of age, or by pregnant or breast feeding women. Not for use with alcoholic beverages. Excessive use or use with products that cause drowsiness may impair your ability to operate a vehicle or heavy equipment.

Do not eat freshness packet. Keep in bottle.