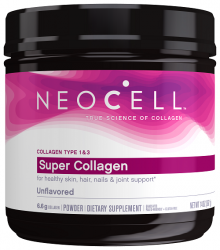 NeoCell
NeoCell Super Collagen 396g Powder
Nourish your inner beauty with our Super Collagen Peptides.
Additional Information
Product Benefits
Ingredients
Dosage
Precautions
As we age, our body's collagen gets depleted, which can lead to many common signs of agine. But our Super Collagen Peptides has been specifically formulated to support your radiant beauty from the inside and promote your body's own collagen production.*
Formulated to boost your beauty from the inside out, our hydrolyzed Super Collagen Peptides helps you feed your healthy beauty and enjoy radiant, youthful skin and healthy hair and nails.*
10g Hydrolyzed Bovine Collagen
Collagen type 1 & 3
Radiant skin, thicker hair, stronger nails
Also supports healthier joints, ligaments and tendons
Each serving (2 Scoops 10g) contains,

Hydrolyzed Bovine Collagen 10g
Calories 35
Protein 8g
Sodium 50mg

Contains no: soy, whea, lactose, starch, corn or artificial flavours.
Gluten Free.
May contain: trace amounts of naturally occuring sulfite residue.
Boost your inner beauty with just two (2) scoops dissolved into a glass of water, coffee, tea, orange juice or your favourite smoothie.
Use this product as a food supplement only. Do not use for weight reduction.

Store in a cool, dry place. Keep out of reach of children.

As with any supplement, if you are pregnant, nursing or have a medical condition, consult your health practitioner before using this product.

*These statements have not been evaluated by the Food and Drug Administration. This product is not intended to diagnose, treat, cure, or prevent any disease.