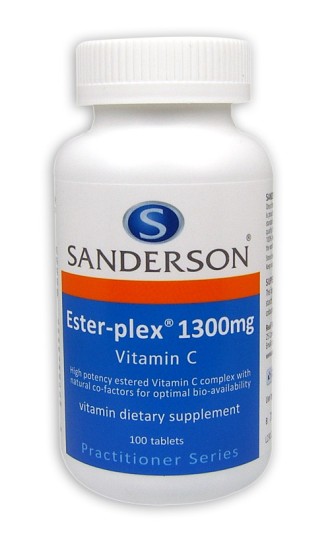 Sanderson
Sanderson Vitamin C Ester-Plex 1300mg 100 Tablets
SANDERSON™ Ester-plex™ 1300mg is a very high strength, easy to swallow vitamin C which contains the same natural metabolites as our chewable product to ensure optimum bio-availability to the body, so that the vitamin C is absorbed better than ordinary vitamin C.
Product Benefits
Ingredients
Dosage
The SANDERSON™ range of Ester-plex® Vitamin C products features only estered vitamin C for superior bio-availability and absorption.
Ester-plex® Vitamin C is a complex that also includes natural co-factors rich in vitamin C and it is a buffered vitamin C to reduce the risk of gastric upset.
Camu Camu is a South American fruit from the Amazon with an extraordinarily high vitamin C content; it is also rich in flavonoids and amino acids serine, valine, and leucine. It is a potent immune support and mood balancer.
Rose hips are high in vitamin C and also contain the antioxidant lycopene.
A single Acerola cherry has 65 times more vitamin C than a orange and is second only to Camu camu in tems of natural vitamin C content.
SANDERSON™ Ester-plex®1300mg tablets are for those who prefer to swallow a tablet rather than chew.
Ester-Plex® 1300mg is a low allergy formulation free from yeast, wheat, gluten, fish, lactose, starch, corn, dairy, sugar, sweeteners, flavourings, colour and preservatives.
| | |
| --- | --- |
| Vitamin C with metabolites as Ascorbic Acid | 1140mg |
| Camu Camu powder | 10mg |
| Acerola (Malpighia punicifolia) dried fruit | 100mg |
| Citrus Bioflavonoids | 20mg |
| Rosehips (Rosacanina) dried fruit powder | 30mg |
Adulots take 1-2 tablets daily. Best taken with food.