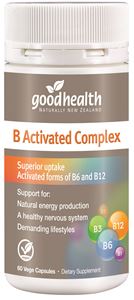 Good Health
Good Health Vitamin B Activated Complex 60 Capsules
Good Health B Activated Complex is a comprehensive formula with activated essential B vitamins that support optimal energy production. This high potency formula contains the active forms of B6 and B12 providing optimal energy and a healthy stress response. Activated vitamins are in a ready to use form, allowing superior uptake by the body. Good health B Activated Complex offers support for; Natural energy production, a healthy nervous system and is suitable for those with demanding lifestyles.
Product Benefits
Ingredients
Dosage
Precautions
Low energy levels
Ongoing stress from demanding lifestyles
Absorption issues
Adrenal and nerve support
General health and wellbeing
| | |
| --- | --- |
| Ingredients: (per vege capsule) | |
| Vitamins: | |
| Vitamin B1 (Thiamine) | 50mg |
| Vitamin B2 (Riboflavin) | 50mg |
| Vitamin B3 (Nicotinamide) | 20mg |
| Vitamin B5 (Calcium pantothenate) | 50mg |
| Activated B6 (Pyridoxal 5' – phosphate) | 40mg |
| Vitamin B9 (Folic Acid) | 300mcg |
| Activated Vitamin B12 (Methylcobalamin) | 50mcg |
| Choline L-Bitartrate | 365mg |
Contains Soy. No added Gluten, Egg, Crustacea, Fish, Dairy, Yeast, Wheat.
Formulated without Artificial flavours, artificial sweeteners or artificial colours.
Adults: Take 1 vege capsule daily, with a meal, or as professionally advised. Best taken at the start of the day.
Always read the label and use as directed. If symptoms persist see your healthcare professional.
Not for use with individuals who have hemochromatosis, as B vitamins support iron absorption
Check with a health professional if pregnant and/or breast feeding
Suitable for vegetarians, vegans and those on a restricted diet