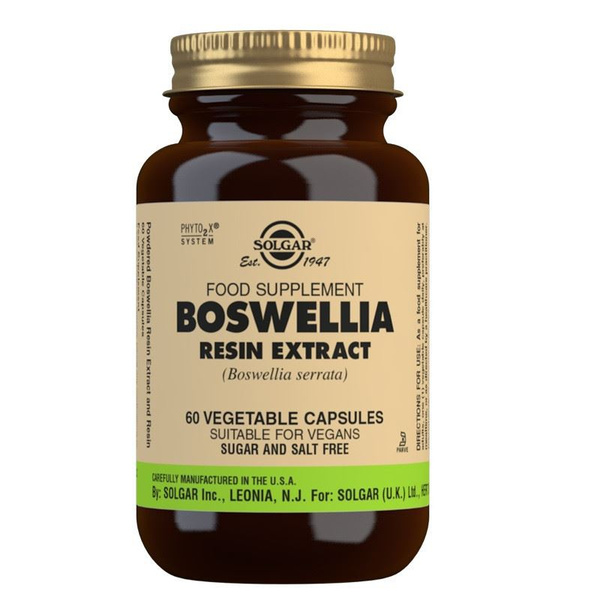 Solgar
Solgar Boswellia 60 Vegetable Capsules
Joint support
Sports injuries
Clear airways
Vegan friendly
Additional Information
Ingredients
Dosage
Solgar Standardised Full Potency Boswellia provide high quality rich boswellia resin, containing up to 350mg of standardised boswellia resin per capsule guaranteeing levels of the active ingredient boswellic acids. Boswellia serrata, also known as Indian frankincense has been highly prized in traditional Ayurvedic practice where it held a prominent place to support the respiratory tract, arthritis and digestion.
Today, scientists have shown that boswellic acid found in Boswellia helps inhibit the synthesis of pro-inflammatory such as 5-lipoxygenase (5-LO), which may result in more comfortable joint movement. Solgar has also combined this herb with beta-carotene, enhancing its potency.
Standardised Boswellia Resin Powdered Extract(227.5mg [65%] boswellic acids) 350mg Raw Boswellia Resin Powder 100mg
PhytO2X (powdered blend of beta-carotene prep. and ascorbic acid), PhytO2X is a special blend of natural antioxidants, the purpose of which is to maintain the freshness of the ingredients.
Encapsulated with natural ingredients:
vegetable magnesium stearate, silicon dioxide, microcrystalline cellulose . Vegetable capsule shell: hydroxypropylmethyl cellulose. Free from Soy and Animal Products
As an herbal food supplement for adults one (1) Vegetable Capsules daily, preferably at mealtime, or as directed by a healthcare practitioner.