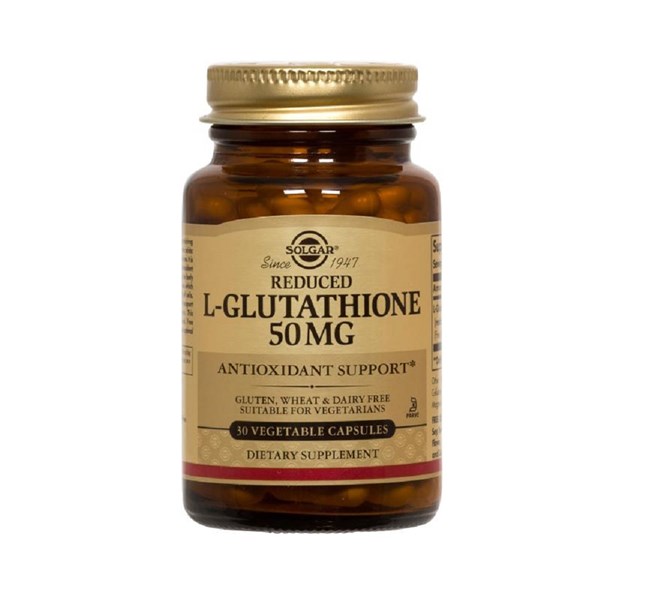 Solgar
Solgar L Glutathione Reduced 50mg 50 Vegetable Capsules
High potency antioxidant for protection of cellular aging.


High potency antioxidant support
Support for anti-aging and premature aging pf the cells
Supports transportation of amino acids
Additional Information
Ingredients
Dosage
Precautions
Glutathione is a sulfur-containing peptide made up of three amino acids: Glutamic acid, Cysteine and Glycine. It is an important water-soluble antioxidant that plays a role in protecting the body from free radical oxidative stress, which can lead to premature aging of cells.

L-Glutathiones antioxidant properties may help it support anti-aging, immunity, extraction of heavy metals, liver health, brain and skin health. Solgar L-Glutathione also acts in amino acid transport pathways.
Each capsule contains,

L-Glutathione (reduced) 50 mg

Microcrystalline Cellulose
Vegetable Cellulose
Vegetable Magnesium Stearate
Take one vegetable capsule up to two times daily, between meals or as directed by a healthcare practitioner.
Free of gluten, wheat, dairy, soy, yeast, sugar, sodium, artificial flavor, sweetener, preservatives and color

Not intended for use by pregnant or nursing women

If you are taking any medications or have any medical condition, please consult your healthcare practitioner before taking any dietary supplement

Discontinue use and consult your healthcare practitioner if any adverse reactions occur