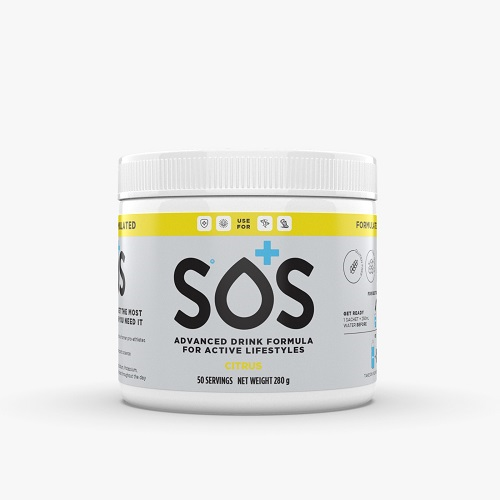 SOS Hydration
SOS Hydration Citrus 280g Powder
The same awesome SOS but in power value tub! Mix by itself, use in smoothies or mix the flavours to create your own combo. SOS is a hydration drink booster with electrolytes that is formulated on proven medical and sports science. SOS helps you absorb water 3 times faster than by drinking water alone, is low in calories, without artificial sweeteners, flavours, colours or preservatives.
Additional Information
Product Benefits
Ingredients
Dosage
Medically Developed Formula Equal To The Hydration Of An IV Drip
3x More Electrolytes, 6x Less Sugar, and 6x Less Calories Than Competing Brands For More Effective Fluid Absorption and No GI Distress
Scientifically Tested - Independently Tested and Backed By Research
Absorb 3x More Water Than Water Alone
Non-gmo premium ingredients - no fillers, artificial ingredients or preservatives
4 Great Tasting Flavors - A Unique Feature Among Electrolyte Replacement Products
Use To Improve Sport Performance and/or Fight Fatigue From Work, Travel, Illness, or Partying
What is the difference between SOS and sports drinks?
SOS is different from typical sports drinks because it is an Oral Rehydration Solution (ORS). It has a low osmolarity solution that contains 50% more electrolytes and 75% less carbohydrates than sports drinks.
Due to its high sugar content, Sports Drinks have a high osmolarity. This will lead to bloating and even diarrhea. High osmolarity in the gut will pull water from the blood vessels into the gut instead of absorbing it; this is known as osmotic diarrhea.
What is the difference between SOS and energy drinks?
The main ingredients of energy drinks are high amounts of sugar and caffeine. As their name says, they are made to give an artificial energy boost; they are not meant to rehydrate you.
Caffeine is known to be a diuretic because it blocks the Antidiuretic Hormone (ADH) in the brain, thus increasing the urine production. After that initial energy boost you will feel tired and you will definitively be dehydrated. Some of the main dehydration symptoms are tiredness, headaches, constipation, and lightheadedness.
SOS is all-natural and gives you a fast and healthy boost of water. Proper hydration is key for good performance and lifestyle survival.
Organic Cane Sugar, Mineral Salts (Sodium Chloride, Sodium Cirtrate, Potassium Chloride), Minerals: Magnesium Citrate, Zinc Sulphate) Organic Dextrose, Natural Lemon Lime Flavour, Natural Colour (Lemon Lime Citrus Fruit), Acidity Regulator (Malic Acid), Sweetener (Steviol Glycosides), Osmolarity 230mOsm/L



Container Size: 50 Serves
Serving Size: 1 Scoop
Servings Per Container: 50