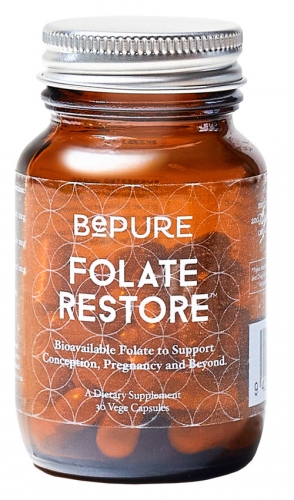 BePure
BePure Folate Restore 30 Capsules
BePure Folate Restore has been designed to support healthy folate levels in the body, particularly for women prior to conception, during pregnancy, and postpartum.
Additional Information
Product Benefits
Ingredients
Dosage
Precautions
Folate Restore can be taken by anyone with low folate levels, those that require activated B9, or those who want to support their folate levels during increased times of need such as preconception, during pregnancy, and postpartum.
Folate Restore has been developed to provide women with the optimal level of folate in preparation, during and post pregnancy to support a healthy baby.
No GMOs

Highly bioavailable forms of folate

Foetal and neural health

Vegan-friendly

Healthy red blood cell production

Mood and mental wellbeing
Folate Restore has been formulated with 2 of the most bioavailable forms of folate — folinic acid and methylated folate. They are both derivatives of dietary folate, unlike folic acid which is synthetic and can be difficult for the body to convert and use.

KEY ACTIVE INGREDIENTS
Vitamin B9 as folinic acid & L-5-MTHF (methylated folate) – Highly bioavailable forms of folate to support baby's development and growth, as well as providing increased protection against neural tube defects.
Iodine as potassium iodide – For baby's brain development, and to promote healthy uterine tissue, breast tissue, optimal thyroid function and brain health for the mother.
Just one capsule a day provides a highly bioavailable blend of folinic acid, methylated folate, and iodine to support healthy development for babies, as well as optimal thyroid function for mum.
If you are on thyroid medication, using blood-thinning drugs such as warfarin or are taking anti-seizure medications please consult with your healthcare practitioner before using this product.