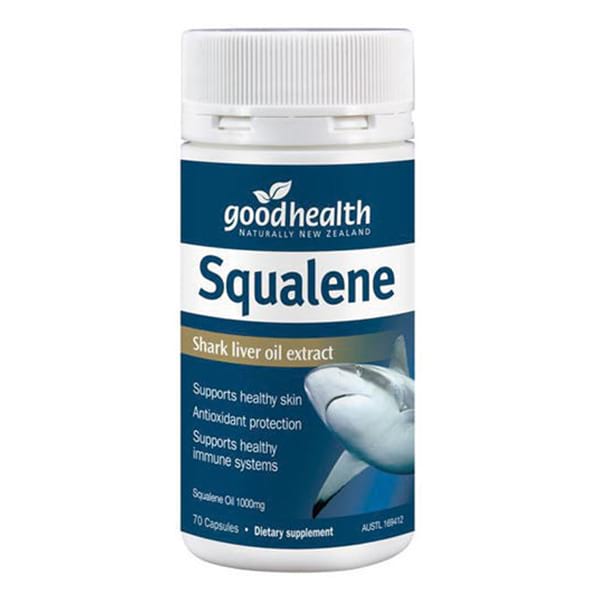 Good Health
Good Health Squalene 300 capsules
Squalene is a unique oil that is found in high concentrations within shark liver. It is ideal to take daily to naturally support beautiful skin, eye health and immune function.
Additional Information
Product Benefits
Ingredients
Dosage
Squalene is a naturally occurring compound made in our bodies to protect our skin. It's protective antioxidant properties help guard against skin damage. Supplementing with Squalene helps to put moisture back into your skin and is to protect against free radical damage which helps fight against the signs of ageing.
Why take Squalene? The human sebum contains 5-10% squalene. As we age this natural supply of squalene lessens, contributing to dry aging skin. Supplying the body with squalene helps maintain skin moisture levels. Squalene is a major component of skin surface lipids, as squalene is not susceptible to peroxidation it acts as an antioxidant to protect the skin from damaging UV rays
USES:
Supports skin health: Rough or dry skin
Supports immune system
Antioxidant properties to protect cells from free radical damage
Wound healing
Helps sto protect the skin from UV damage
Supports cholesterol lowering medication
Gluten, egg, dairy, yeast, wheat, artificial flavours, artificial sweeteners or artificial colours.
| | |
| --- | --- |
| Squalene Oil | 1000mg |
| Vitamin E (d-alpha tocopherol) natural antioxidant | 1mg |
Adults: Take 1-3 tablets daily.