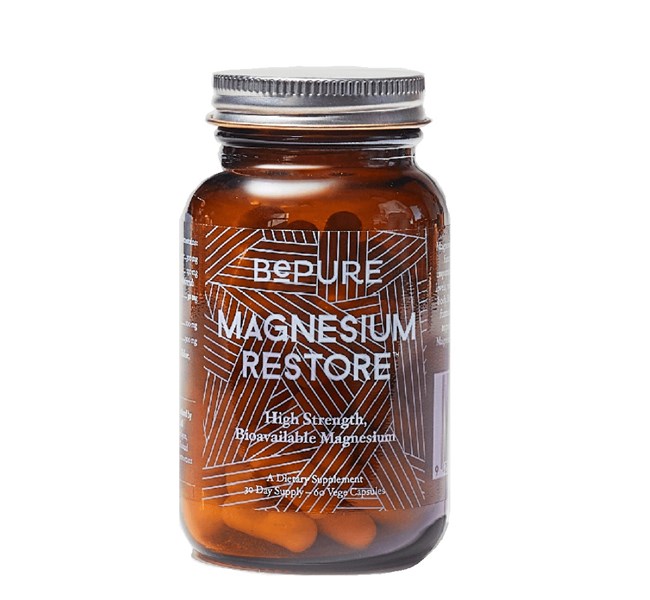 BePure
BePure Magnesium Restore 60 Vegetable Capsules
BePure Magnesium Restore is for anyone looking for optimal absorption, renewal of depleted magnesium stores and improved energy production.
Additional Information
Product Benefits
Ingredients
Dosage
BEPURE MAGNESIUM RESTORE SUPPORTS;
Energy production
Muscle recovery
Quality sleep and rest
Improved muscle relaxation and reduction of muscle cramps
Relaxation of the body and mind
Stabilised mood
Normal heart function and blood pressure
Energy production
Healthy bone formation
Suitable to take when pregnant and breastfeeding.
All BePure nutritional support products are supplementary to and not a replacement for a quality, whole foods diet.
Magnesium bisglycinate (the kind we use in BePure Magnesium Restore) is celebrated for its superior bioavailability. Combined with the well-researched ingredient L-carnitine, Magnesium Restore supports a good night's sleep, energy production, a calm mood, and muscle relaxation and restoration.
Every capsule of BePure Magnesium Restore contains a powerful combination of magnesium bis-glycinate, and L-carnitine to effectively support the renewal of depleted magnesium stores.
KEY ACTIVE INGREDIENTS
Magnesium bis-glycinate for optimal absorption into the body
L-Carnitine to assist in energy production
| | |
| --- | --- |
| Each serving contains, | |
| | |
| Magnesium | 300mg |
| - as Bisglycinate | |
| L-Carnitine | 100mg |
Cellulose, Rice Concentrate, Silica