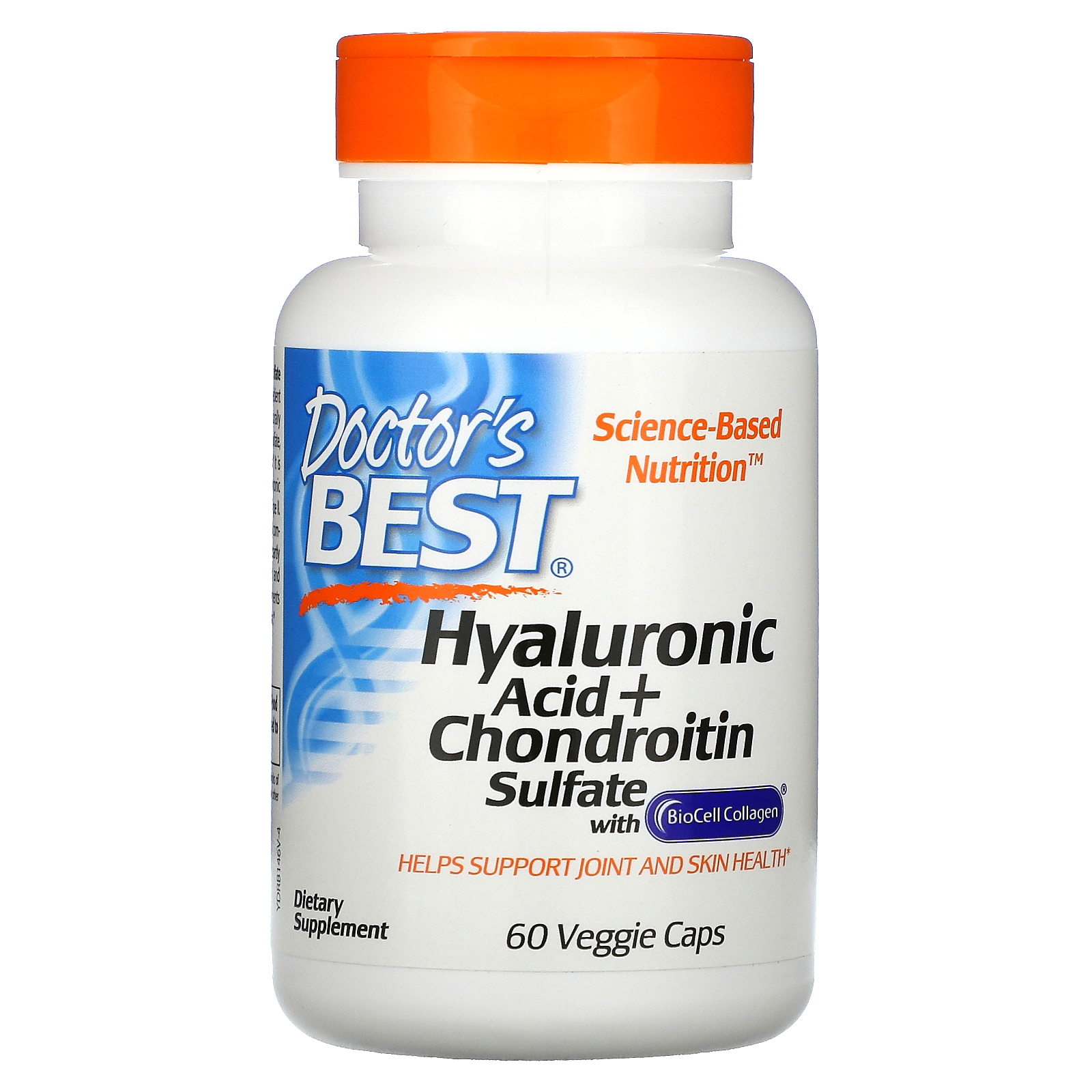 Doctor's Best
Doctors Best Hyaluronic Acid + Chondroitin Sulfate 60 Capsules
Doctor's Best Hyaluronic Acid + Chondroitin Sulfate with BioCell Collagen II formulated to supports healthy joint function and boost skin elasticity. Made with BioCell Collagen II
Additional Information
Product Benefits
Ingredients
Dosage
Precautions
The importance of hyaluronic acid
HA is a molecule that can absorb up to 3,000 times its weight in water, therefore is an important hydrating agent for tissues. It is highly concentrated in synovial fluid and enhances joint lubrication. High concentration is also found in the skin supporting skin suppleness and elasticity.
Supports healthy joint function – the components of BioCell Collagen enhance healthy joint structure by providing collagen type 2, chondroitin sulfate and hyaluronic acid. (Type 2 collagen is the most abundant structural component found in joint cartilage matrix). Interwoven in collagen 2 matrices are glycosaminoglycans (hyaluronic acid and chondroitin sulfate) which provides cartilage its shock-absorbing properties
Maintenance of youthful skin – HA enhances the structure and volume of the skin by promoting healthy connective tissue that interacts with the skin. HA attracts and maintains moisture in the skin. HA concentrations decrease with age leaving skin dry and uncomfortable with visible signs of ageing. Research has found a complete absence of HA granules in individuals over the age of 60
Boost skin elasticity and improve the appearance of skin by promoting skin repair and support and hydration
Hyaluronic acid is found in the eye's vitreous fluid. May aid glaucoma, retinal detachment, eye floaters
BioCell Collagen II® in Doctor's Best Hyaluronic Acid with Chondroitin Sulfate provides a safe, natural, standardized source of building blocks for maintaining joint structure and function as well as promoting the integrity of healthy skin
Each 2 Capsules Provide:
BioCell Collagen, providing 1000mg
Hyaluronic Acid 100mg
Chondroitin Sulfate 200mg (Chicken)
Hydrolyzed Collagen Type II 600mg
Other Ingredients: Rice powder, gelatin (capsule), magnesium stearate (vegetable source).
Gluten-free, non-GMO.
Adults: Take two capsules daily or as recommended by a healthcare practitioner.
Best taken on an empty stomach, either half an hour before food or two hours after food.
If pregnant or breastfeeding, see a healthcare practitioner before using this product.
Always read the label and use as directed. If symptoms persist see your healthcare professional.