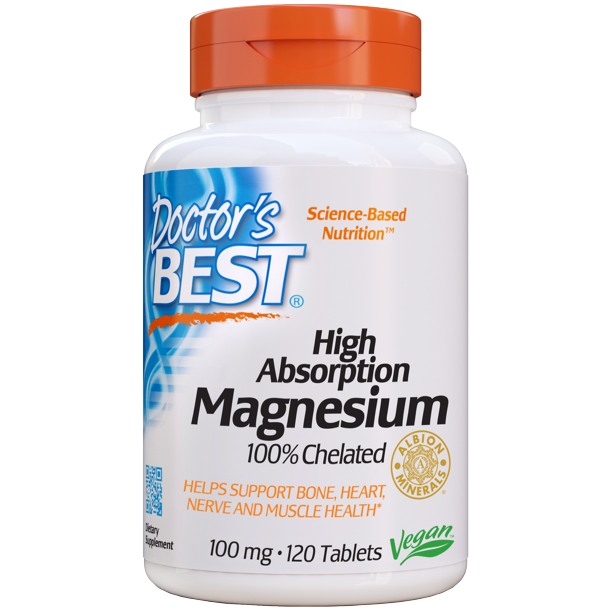 Doctor's Best
Doctors Best High Absorption Magnesium 100% Chelated 120 Tablets
Doctor's Best High Absorption 100% Chelated Magnesium provides 200mg of elemental magnesium per serve and is made with TRAACS®, a patented form of magnesium that is chelated to the amino acids glycinate/lysinate to optimize bioavailability.
Magnesium is an essential mineral for human nutrition and is required for more than 300 biochemical reactions in the body. Magnesium supports normal muscle and nerve function and offers cardiovascular support. It also supports a healthy immune system and supports bone density. Magnesium also supports normal blood pressure, balanced blood sugar levels and may support sleep. Magnesium oxide is a frequently used supplement however it shows poor solubility.
Product Benefits
Ingredients
Dosage
Precautions
Supports normal muscle and nerve function
Offers cardiovascular support
Supports a healthy immune system, and supports bone density
Supports normal blood pressure
May support sleep
Each 2 Tablets Provide:
Magnesium (elemental) (from 2,000 mg magnesium glycinate/lysinate chelate**) 200 mg
Other Ingredients: Microcrystalline cellulose, stearic acid, croscarmellose sodium, magnesium stearate (vegetable source), modified cellulose coating.
Non-GMO, Gluten-free, Vegetarian and Vegan.
Adults: Take 2 tablets twice daily, with or without food, or as recommended by a healthcare practitioner.
Store in a cool dry place.
Always read the label and use as directed. If symptoms persist see your healthcare professional.