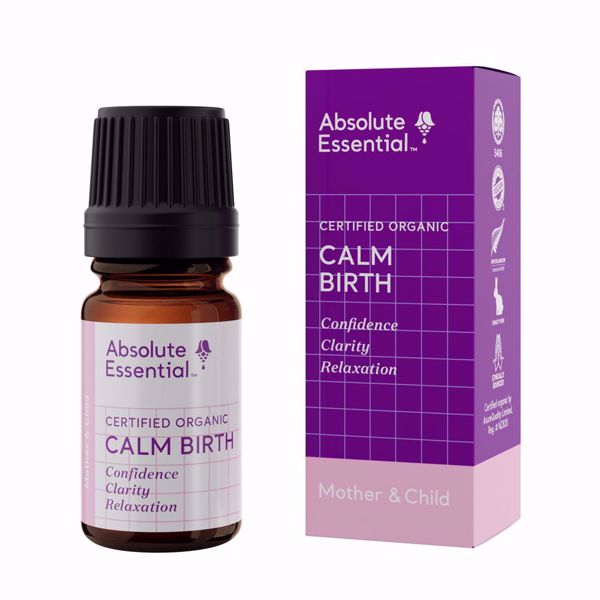 Absolute Essential
Absolute Essential Calm Birth Certified Organic 5ml
The inevitable anxieties around birth are best managed with sensible preparation and an open mind. Breathing is, of course, our best natural resource to help us stay loose and manage powerful contractions with presence and integrity. Which is why Calm Birth is the perfect companion for natural birthing. Made with exceptionally pure essential oils, it has a gentle natural aroma that carries specific calming and balancing properties to sensory receptors at the nose. Simply put drops into a diffuser to help create an atmosphere conducive to clarity and composure. Also helpful to encourage relaxation and calm during pregnancy, Calm Birth may be especially useful in conjunction with guided prenatal yoga. It is absolutely safe for mother and baby and may be accompanied by Labour Support for a total natural-care birth plan.
Additional Information
Product Benefits
Ingredients
Dosage
Precautions
Lavender True (organic) Lavandula angustifolia maillette
Traditional use: to comfort; to relieve fear & anxiety.
Geranium (organic) Pelargonium graveolens
Traditional use: to ease nervous tension; to enhance communication.
Clary Sage (organic) Salvia sclarea
Traditional use: to combat stress; to stimulate euphoria; to relax the body & keep the mind clear; a hormone stimulant during labour.
Sandalwood Australian (traditional) Santalum spicatum
Traditional use: a relaxant; to stimulate creativity; to ground; to diffuse anxiety
Birthing Room
Relaxing oils with positive, open tones are harnessed to help create a space of optimum focus and peaceful transition. Safe for mum and baby and effective on dads too. Diffuse in room before and during birth.
Anxiety
It is important to balance natural apprehension and stay relaxed in your body. This blend can be used as you approach your due date to help diminish tensions that are unhelpful for natural birth.
Baby Bonding
Absolutely safe for newborn babes, you can continue using this blend to support relaxation and clarity, and help you flow smoothly into joyful bonding with your baby. May be especially helpful to first time mothers.
Directions:
Diffusion: 5 drops, replenish as required.
Bath: 5 drops in milk then to bath water, may be added to a birthing bath.
Safety Considerations: This blend is professionally designed for use with mother and baby and is very safe if applied as directed. Essential oils should not be applied neat to baby skin. Not for internal use: if ingested do not induce vomiting, drink milk, consult a health specialist. Avoid contact with eyes: flush with water. Keep out of reach of children.
Please note: Therapeutic plant oils are used to support natural body process for optimum health and wellbeing. The information here is NOT meant as recommendation for cure of any medical condition or disease.