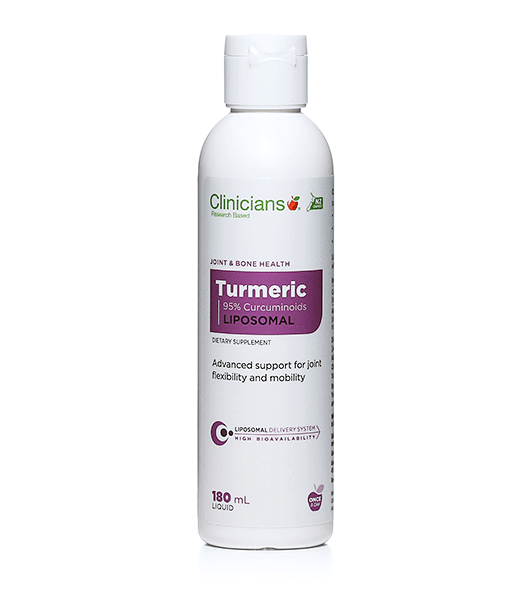 Clinicians
Clinicians Turmeric 180ml Liquid
Highly bioavailable turmeric for support joint, cardiovascular and digestive health and healthy ageing.

Liposomal spheres created from sunflower oil to provide a delivery capsule of phospholipids, the same substance as our cells. These are filled with our turmeric extract and their small size allows them to pass easily through the digestive system for immediate cellular support.
Additional Information
Product Benefits
Ingredients
Dosage
Precautions
Turmeric has been used in traditional medicine for centuries, but its actions have been limited by its poor absorption and quick metabolism. Using liposomal technology Turmeric Liposomal is more bioavailable and comes in an easy to take liquid format. The formula contains 95% curcuminoids the active constituents in turmeric for consistent quality and can be taken once a day for joint support.

Suitable for pregnant and breastfeeding women.
Supports mobility, flexibility and joint health
Digestive health support
Cardiovascular system support
Each serve of 6 ml contains:
| Ingredients | Amount | Units |
| --- | --- | --- |
| Curcuma longa (turmeric root extract) equiv to curcuminoids (standardised) | 200 | mg |
Also contains: Purified water, glycerin, structured sunflower seed lecithin (providing essential phospholipids including phosphatidylcholine), natural fruit flavours, acacia gum, xanthan gum, potassium sorbate.
No Added: Gluten, dairy, yeast, sugar, artificial colours, sweeteners and flavours
One serve = 6ml (just over 1 tsp)
Adults: Once daily
Children (4 years +): Take up to half a tsp daily
Best taken 15 minutes away from food. You can dilute to taste with a small amount of water or juice
Turmeric is contraindicated in bile duct obstruction.
Due to antiplatelet activity and possible increased risk of bleeding, suspend use one week before major surgery.
Do not take with blood thinners