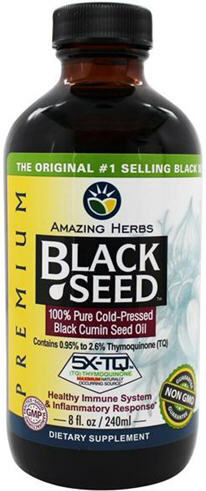 Amazing Herbs
Amazing Herbs Black Seed Black Cumin Seed Oil 240ml
A great way of boosting your immunity, the Black Seed Oil Premium 240ml is brought to you in the most pure form in order to offer maximum nutrition benefits. Extremely effective in treating allergies and diseases related to low-immunity, this oil acts as a reliable source of EFA's 3/6/9. It offers antioxidant properties owing to the presence of a dominant antioxidant, Thymoquinone that enhances its overall benefits to a great extent.
Additional Information
Product Benefits
Ingredients
Dosage
Precautions
100% cold-pressed black cumin seed oil
therapeutic grade
contains Thymoquinone (TQ)
100% Pure
Contains 1.32% Thymoquinone
Maximum Naturally Occurring Source
Solvent Free
Acts as a dietary supplement
Vegan
BPA Free
Alcohol Free
Gluten Free
Non-GMO
Helps in maintaining a healthy immune system & inflammatory response
Supplement Facts
Serving Size: 1 Tsp (5 g)
Servings Per Bottle: 24
Amount Per Serving
% Daily Value
Calories
44
Fat Cal
44
Total Fat
5 g
7.5%
Saturated Fat
1 g
5%
5XTQ Black Cumin (seed) oil
5 g
n/a
Thymoquinone (TQ)(naturally occurring)
48 mg - 130 mg
n/a
Omega-3
0.25%
Omega-6
58%
Omega-9
22%
* Percent Daily Values are based on a 2,000 calorie diet.
For adults, take 1/2 to 1 teaspoonful, twice daily. If using for first time. Start with 1/2 tsp. (with small amount of food) and gradually increase over a few days.
Storage: Store at room temperature, away from heat and direct sunlight. May be refrigerated if desired.