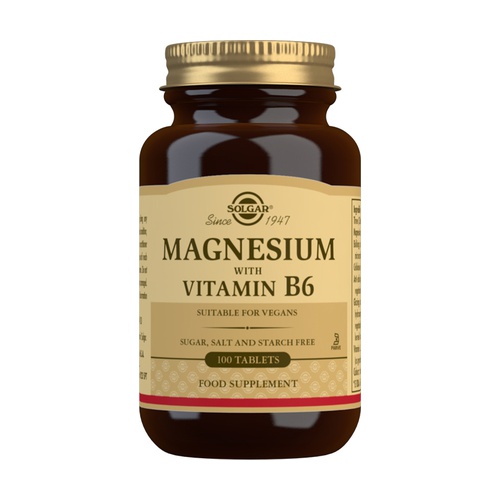 Solgar
Solgar Magnesium with Vitamin B6 100 Tablets
Hormonal balance

Premenstrual support

Mood & emotional stability

Vegan friendly
Additional Information
Ingredients
Dosage
Precautions
Solgar Magnesium with Vitamin B6 combines two ingredients which work together in the body to support mood, hormonal balance and emotional stability. This formula is ideal for women needing premenstrual support. Vitamin B6 helps support the assimilation and activity of magnesium.
Vitamin B6 may play a role in mood balance and therefore maybe supportive for PMS. Magnesium helps to support calcium transport and absorption. By stimulating the secretion of calcitonin, it aids the influx of calcium into bone and promotes optimal bone mineralization. Along with ATP, magnesium supports cellular energy production. It also is beneficial for nerve and muscle function.
Each 3 Tablets Provide:
Vitamin B6 (pyridoxine HCI) 25mg
Magnesium (as oxide) 400mg
Also contains: Dibasic calcium phosphate, microcrystalline cellulose, stearic acid, magnesium stearate, hydroxypropylmethyl cellulose, titanium dioxide, vegetable glycerin.
As a food supplement for adults, take three (3) tablets daily, preferably at mealtime, or as directed by a healthcare practitioner.
Take at least 2 hours away from medications.
Always read the label and use as directed. Vitamins are supplementary to a balanced diet. If symptoms persist consult your healthcare professional.