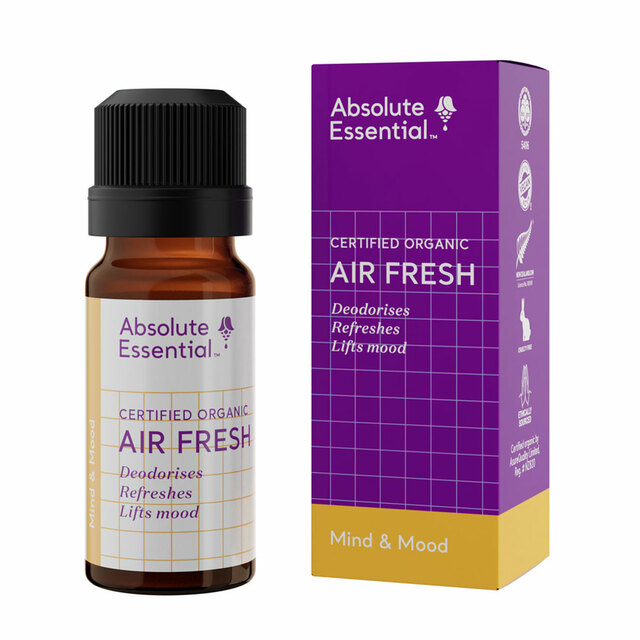 Absolute Essential
Absolute Essential Air Fresh Certified Organic 10ml
Absolute Essential Air Fresh is a powerful natural air-freshener with a lively, clean fragrance that can also support the mood.
Ideal to counter unwanted odours, such as wet dog, tobacco or mildew, and perfect for lightening damp-day blues.
Additional Information
Ingredients
Dosage
Precautions
Natural air-freshener
Uplift moods
Freshen fabrics
Cat repellent
Lemon (organic)
Cedarwood atlas (organic)
Palmarosa (organic)
Pine scotch (organic)
Wild mint (organic)
Geranium (organic)
Peppermint (organic)
Deodorise Air & Uplift Moods:
Transform stale air and counter heavy atmospheres, create fresh, naturally inviting spaces, at home, work or even in your car.
Freshen fabrics: Add 10 drops of Fresh Air to 1 litre of warm water, shake vigorously, spray on clothes or fabrics that have absorbed unwanted smells (not suitable for delicate or light-coloured fabrics, upholstery or carpets), or add 5 drops to rinse water in washing machine.
Cat repellent: Create a spray (as above) to also repel scratching cats from your furniture.
This blend is safe if applied as directed.
Not for internal use: if ingested do not induce vomiting, drink milk, consult a health specialist.
Avoid contact with eyes: flush with water.
Keep out of reach of children.