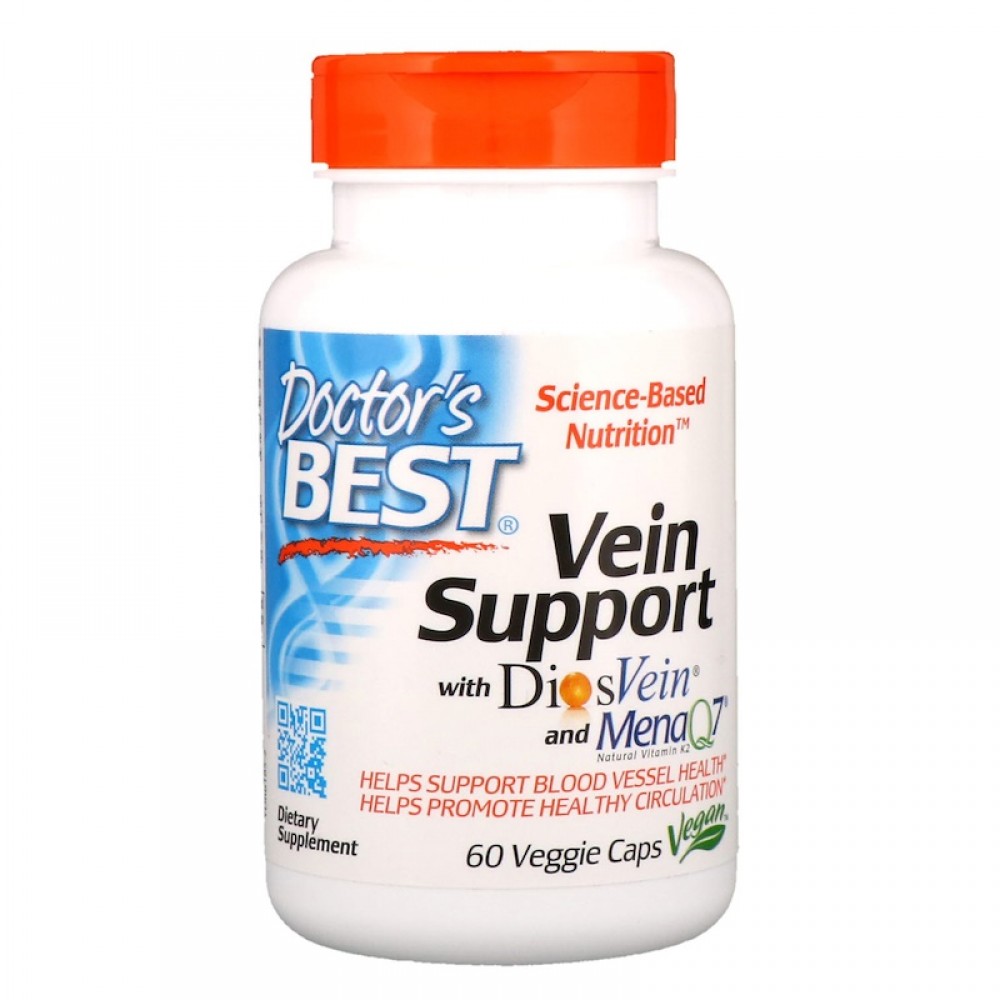 Doctor's Best
Doctors Best Vein Support 60 Veggie Capsules
Supports blood vessel health and venous tone
Supports healthy circulation
Contains two patented ingredients, DiosVein® and MenaQ7®
Additional Information
Product Benefits
Ingredients
Dosage
Precautions
Doctor's Best Vein Support
is a unique formula combining vitamin K with the flavonoid diosmin; together these ingredients support blood vessel health and healthy circulation. This Doctor's Best product contains two patented ingredients, DiosVein® and MenaQ7®.
DiosVein® is a form of diosmin that is derived from sweet orange. Clinical studies have shown DiosVein® to be particularly effective at supporting the health of blood vessels and normal circulatory function. Certain studies suggest that diosmin has beneficial effects such as supporting venous tone and lymphatic drainage as well as the health of cells within blood vessel lining.
MenaQ7® provides vitamin K2 in the form of menaquinones-7, a superior form of vitamin K2 with optimal bioavailability. Vitamin K activates a protein present in blood vessels known as Matrix Gla Protein (MGP), which is known to be necessary for vascular health maintenance.
Doctor's Best is an American nutrition supplement company, founded in 1990 by physicians. Dedicated to supplying the best quality products available and backed by scientific research. Doctor's Best multivitamin range includes numerous high-quality nutrients and herbal extracts, targeting specific nutritional needs.
Vitamin K……..50mcg
(as vitamin K2 from MenaQ7™)
DiosVein® Diosmin EP (min 90%)….900mg
Natural Orange Extract…..100mg
(standardized to min. 90% Hesperidin)
Other ingredients: rice powder, modified cellulose (vegetarian capsule), magnesium stearate (vegetable source), silicon dioxide, glycerol monostearate, ascorbyl palmitate, rosemary extract.
Non-GMO, Soy free and Vegan.
Take two capsules daily. For optimal absorption, take with a fat-containing meal or snack, or as recommended by a healthcare practitioner.
This product contains vitamin K. Consult your physician if using blood-thinning medications.
Always read the label and use as directed. If symptoms persist see your healthcare professional.