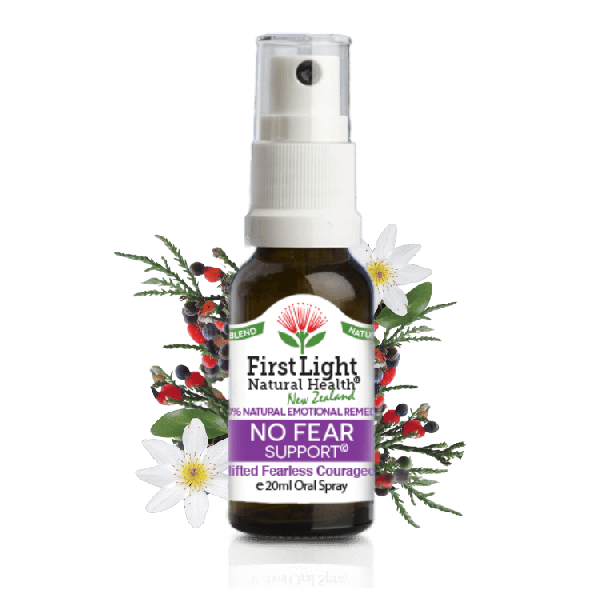 First Light Natural Health
First Light No Fear Support 20ml Oral Spray
Negative condition: Fearful, feeling unsafe, unsupported or uncertain, caught up in chaos
Positive outcome: Fearless, feeling present, safe and secure, courage, inner strength
An emotionally strengthening flower essence blend to support emotional and mental freedom from fear. Helps you to feel supported, self-sufficient and grounded. A great flower essence blend to use when feeling caught up in chaos and affected by the projections and negativity of others. Helps you to feel energetically protected, uplifted and to keep your spirits up.
Additional Information
Product Benefits
Ingredients
Dosage
First Light Natural Health® No Fear Support© provides natural support when you are experiencing any of the following:
Feeling fearful, life feels uncertain
Feeling physically unsafe or insecure
Feeling unsupported and vulnerable
Caught up in chaos and feeling pulled into negativity and fear
Potential:
Feeling fearless and keeping your spirits up
Creating your own reality – not buying into other people's fear
Having faith while sailing through unchartered waters
Insulating yourself from other people's negative thoughts and emotions
Overcoming the odds, finding your way in the dark, seeing the light at the end of the tunnel
First Light Natural Health® flower essence blends are sustainably made in total cooperation with nature and contain only natural ingredients.
100% natural
Animal and plant cruelty free
Free from fragrances, petrochemicals, parabens and other additives
Carefully made in New Zealand with New Zealand native plants
First Light Natural Health® No Fear Support© is made with award winning First Light Flower Essences of New Zealand®:
No 23 Lacebark
No 37 King Fern
No 44 Kahikatea
No 51 Broadleaf
No 77 Clematis
No 89 Black Shield Fern
No 108 Tarata
No 121 Forest Orchid
Easy to use 20ml oral spray. Spray 2-4 times directly under the tongue.
Adult: Repeat 3-4 times daily. Child: Repeat 2-3 times daily.
Can be taken more frequently if desired and for as long as required.
For maximum benefit, once the bottle is opened, continue taking until finished.