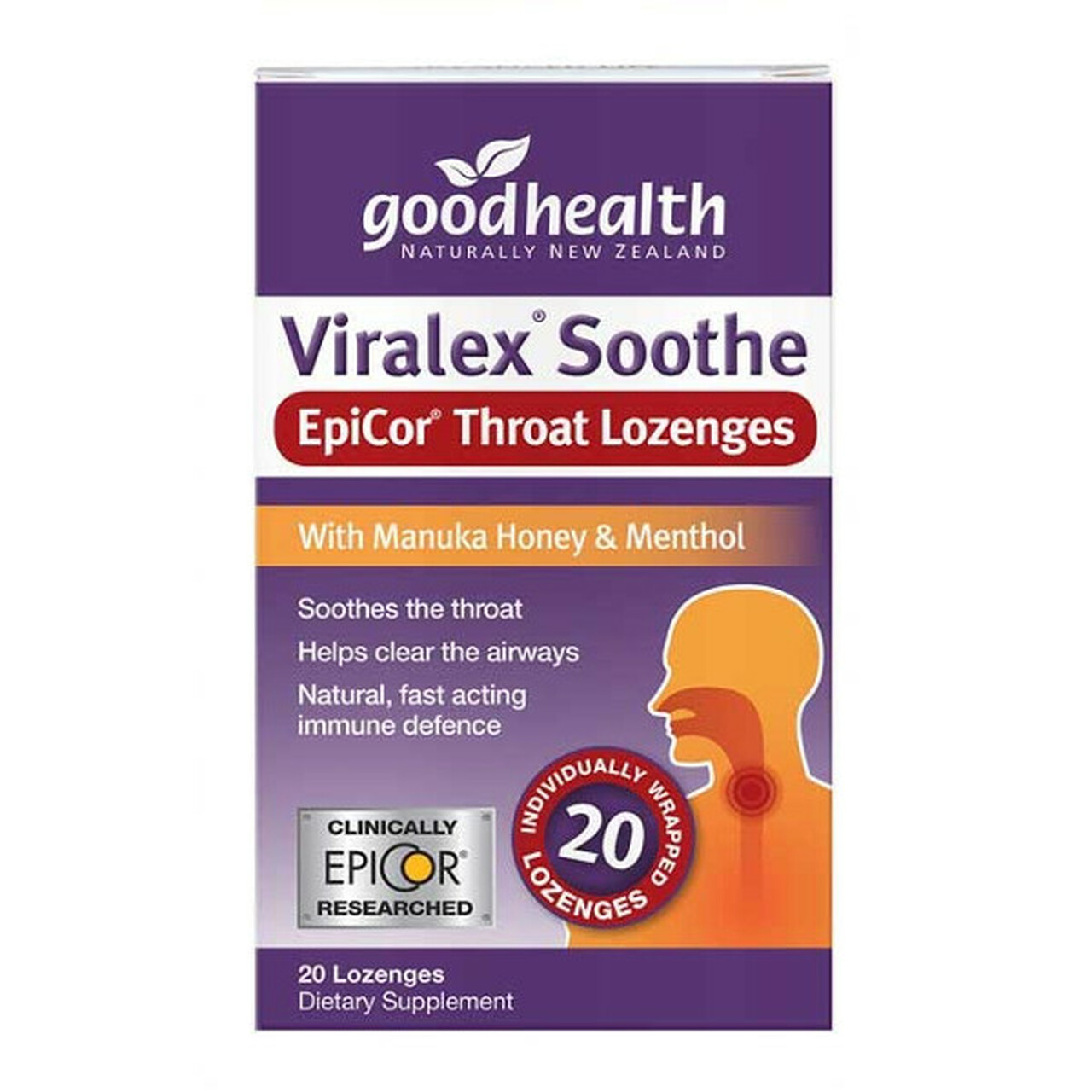 Good Health
Good Health Viralex Soothe Epicor Lozenges 20 Pack
Good Health Viralex Soothe EpiCor Throat Lozenges are natural and fast-acting. This unique formula with clinically researched EpiCor, Manuka Honey and Menthol helps to soothe the throat, clear the airways and strengthen your immune system.
Additional Information
Product Benefits
Ingredients
Dosage
Precautions
EpiCor is clinically researched to strengthen the body's defences by supporting antioxidant protection and supporting the immune response.
Good Health Viralex Soothe EpiCor Throat Lozenges can be taken with Good Health Viralex Attack for rapid immune defence and Good Health Viralex for everyday immune support.


Soothing lozenge with clinically researched ingredient EpiCor ®
Supports healthy throat and airways
Great addition for further throat support when needed alongside the Viralex range
Menthol for throat, nasal and airway support
Perfect for supporting dry tickly throats during the ills and chills
Key Features
Contains clinically researched EpiCor® – a unique extract from Saccharomyces cerevisiae
Contains New Zealand Manuka Honey
Contains Menthol
Individually wrapped lozenges
Key Benefits
EpiCor® is natural and fast acting and is proven to support the body's
Immune response.
Manuka Honey is very soothing
Menthol helps to clear the airways
Individually wrapped is convenient and prolongs freshness
Each Lozenge contains:


EpiCor® (Dried fermentate made using Saccharomyces cerevisiae) 250mg
Manuka Honey 300mg
Menthol 4mg
Also Contains: Sugar, glucose, natural flavours.
No Added: Gluten, dairy, egg or wheat.
No artificial flavours, sweeteners, preservatives or colours used in this product.
Always read the label and use as directed. If symptoms persist, see your healthcare professional.
Adults: Dissolve one lozenge slowly in the mouth up to 6 times daily.
Children 6-12 years: Dissolve one lozenge slowly in the mouth up to 3 times daily.
Allergy to honey
Do not exceed the recommended daily dose
Keep out of reach of children
If symptoms persist consult your healthcare professional
Suitable for vegetarians