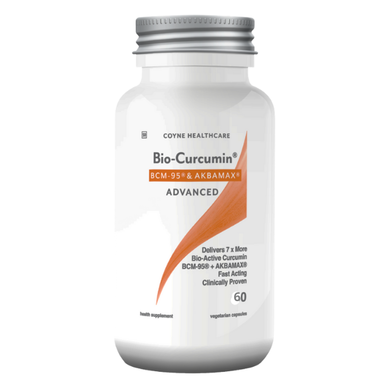 COYNE Healthcare
Coyne Bio-Curcurmin Advanced 60 Vegetable Capsules
Bio-Curcumin® Advanced with BCM-95® & AKBAMAX®, a world-class curcumin formulation combined with a special extract of Boswellia serrata,is a health supplement made from a strategic blend of natural ingredients. It is specifically designed to help boost and support the body's internal systems and maintain health in a natural way.
Additional Information
Product Benefits
Ingredients
Dosage
Precautions
Bio-Curcumin Advanced® is a potent and synergistic combination of Bio-Curcumin® BCM95®, a highly bioavailable curcumin extract supported by 63 published studies, along with AKBAMAX®, a specialized, standardized Boswellia serrata extract.

Bio-Curcumin Advanced may deliver more-bioactive "free" curcumin which stays in the body for up to eight hours, Bio-Curcumin® BCM95® with AKBAMAX® is a powerful blend of the most bioavailable components of turmeric and Boswellia providing a high-potency formulation with superior absorption that provides fast-acting support for a healthy inflammatory response, joint mobility and flexibility.
Delivers up to 7 x more bioactive/free curcumin into the blood stream
Provides a synergistic combination of curcumin + Ar-Turmerone oil, BCM-95®
Includes a specialised Boswellia serrata extract, AKBAMAX®
Produced using green energy and environmentally friendly ingredients
| | |
| --- | --- |
| Each capsule contains, | |
| | |
| Bio-Curcumin Advanced | 500mg |
| - BCM-95 Curcumin longa 25:1 extract | |
| - std. to 95% total curcuminoid complex | 250mg |
| AKBAMAX Boswellia extract | |
| - 45% boswellic acids (HPLC) and 10% AKBA | 250mg |
Organic NU-RICE in a clear vegetable capsule
Adults and children over 12yrs: for the first 3 days, take 2 capsules twice daily with food; thereafter take 1 to 2 capsules twice daily with food as required.
If you are taking taking anti-coagulants or anti-platelet medications, are pregnant or have a bleeding disorder, or any other medical condition consult your healthcare provider before taking Bio-Curcumin.

Do not exceed recommended dose.

Vegan-friendly, free from GMO/sugar/gluten/soy