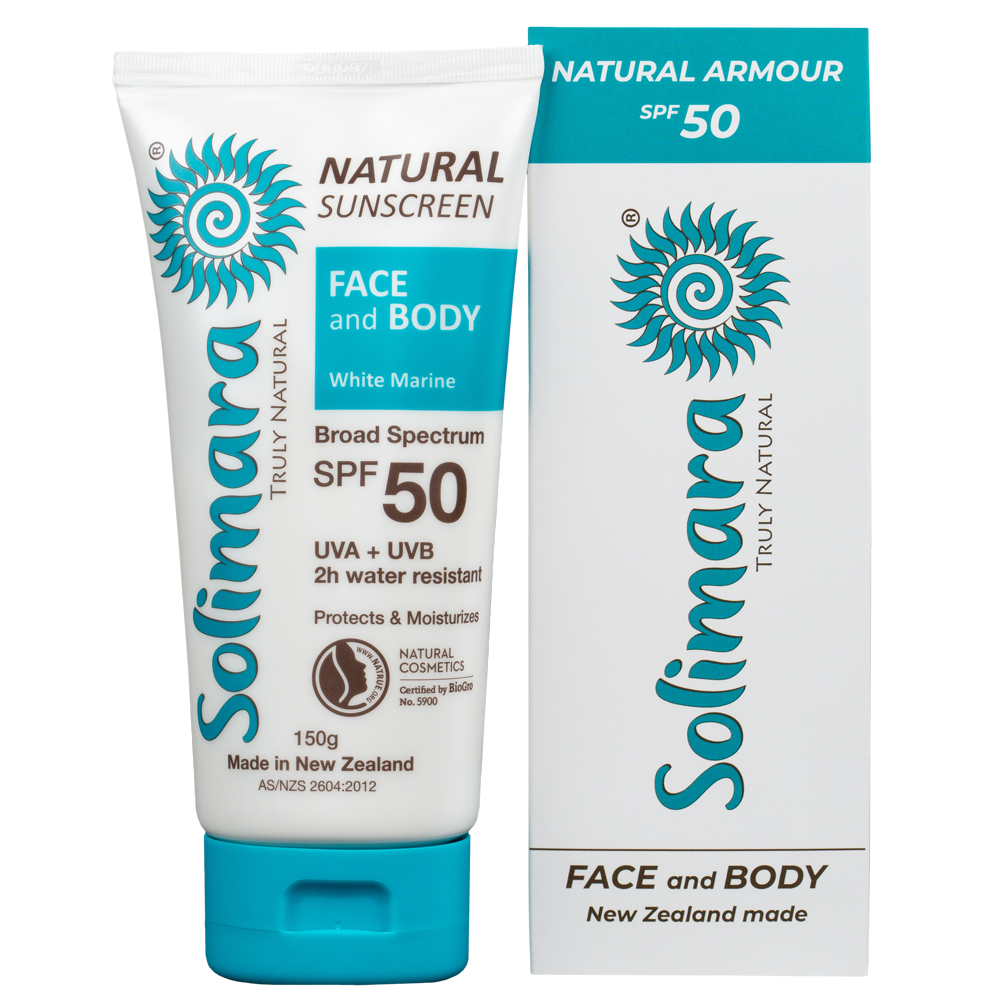 Solimara
Solimara Sunscreen White Marine 150g
Solimara SPF50 broad-spectrum sunscreen gives instant protection and nourishment from natural ingredients including zinc, sweet almond oil, shea butter, and beeswax. To be used on your face as well as your body, it is also a great moisturiser and primer, and won't run into your eyes.
This is more than just a sunscreen – it's filled with vitamins and minerals, has anti-inflammatory and anti-bacterial properties, and even helps smooth fine lines and wrinkles!
Ideal for sensitive skin and is suitable for babies over 2 months. Your skin and the environment will love you for making the switch to Solimara Mineral Sunscreen.
Additional Information
Product Benefits
Ingredients
Dosage
Precautions
Solimara Natural Sunscreen SPF 50 Face and Body Marine White provides superior broad spectrum sun protection from damaging UVA + UVB rays for the whole family. Solimara uses only zinc oxide as the active ingredient and is packed with natural moisturising and nourishing ingredients with a very low allergy risk, making it ideal for sensitive skin.
Zinc oxide helps prevent sun damage, wrinkles and dark spots. This amazing mineral is also widely used to treat a variety of skin conditions.
White Marine is a refreshing and luxurious marine scent.
2h water resistant
Immediate protection
Retains moisture naturally
Suitable 6 months plus
Ideal for sensitive skin
Does not run into or sting your eyes
New Zealand made & owned
Water, Zinc Oxide, Coco-Caprylate/Caprate, Simmondsia Chinensis (Jojoba) Seed Oil, Glycerine, Sorbitan Olivate, Cera Alba (Beeswax), Lecithin, Polyglyceryl-2 Dipolyhydroxystearate, Galactoarabinan (Larch), Polyglyceryl-3 Polyrecenoleate, Polyhydroxystearic Acid, Butyrospermum Parkii (Shea Butter), Prunus Amygdalus Dulcis (Sweet Almond) Oil, Glyceryl Caprilate, Isostearic Acid, Potassium Cetyl Phosphate, Sodium Chloride, Fragrance*, Benzyl Alcohol, Caprylhydroxamic Acid, Linalool, Limonene, Citral
Solimara truly natural Sunscreen is different from most products on the market. With conventional sunscreens, the active chemical ingredients are required to sink down into the different layers of your skin before they become "active." This is why it is recommended that you wait 15 to 20 minutes before going out in the sun. When you apply Solimara truly natural sunscreen, you can go out into the sun straight away! This is because our mineral based sunscreen is designed to sit on top of your skin, acting like a mirror, reflecting sunlight away from the skins surface and creating a layer of protection immediately!
It is recommended that you wait 15 to 20 minutes before going out in the sun